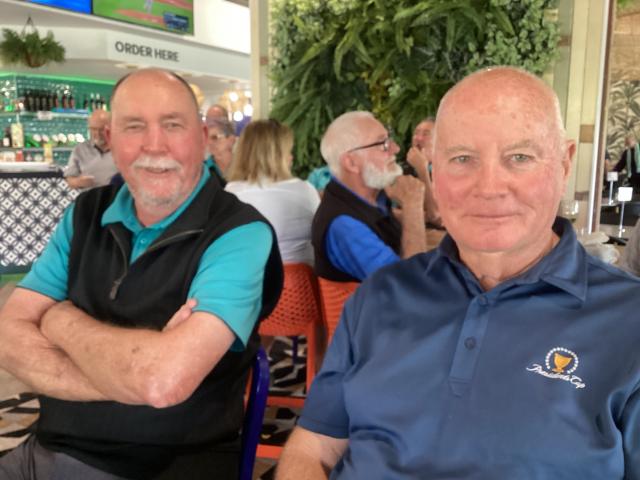 Yoey Coogan
On Tuesday 28 June, the Gympie Golf Club Veterans hosted the Nambour Vets Golf Club. The total field was 92 players including a visitor from Tin Can Bay and one from Maitland Golf Club.
A good day was had by all, even though it was a smidge chilly.
Winner of A grade was Ken Burford with a score of 39, followed by Ron Edwards on 36 and in third place was Gerry Dunbar on 34.
B grade winner was John Bryant from Nambour with a score of 35 followed closely by Brian Carroll on a count back to Kevin Isbester from Nambour.
C grade winner was Allan Kurtz with a score of 38 followed by Lesley Sutton (great improvement Lesley) on 35 and in third place was Alan Cove with a score of 34.
The ball run down went to 28.
Doug Cunningham got the ball in a pink bag.
Pin Shots: A grade 6th was Richard Costello (Nambour). B grade 3rd was Greg Gooding. C grade 12th was Alan Cove and all grades 16th was Ken Wilkins.
A geliatric was handed out to Barry Reilly from Nambour.
Barry hit his tee shot on No, 11, it hit the big gum tree which made the ball turn right and ended up short of the ladies 8th and 11th tee markers.
Well done Barry.
July is a busy month for the Vets. After the Monthly Medal on Wednesday, on 18 July the Vets will go to Nambour (names on sheet in Members Room please). On 12 July, they will host Pelican Waters, on 19 July is Madill Suzuki day, 25 July they will travel to Hervey Bay, 26 July is Invite a Friend Day and on 28 July the Vets will host Tin Can Bay.
Lots of golf to be played.
Thought of the week: "I golf for my own entertainment and my teammates' entertainment," Hilary Knight.
See you all next week.