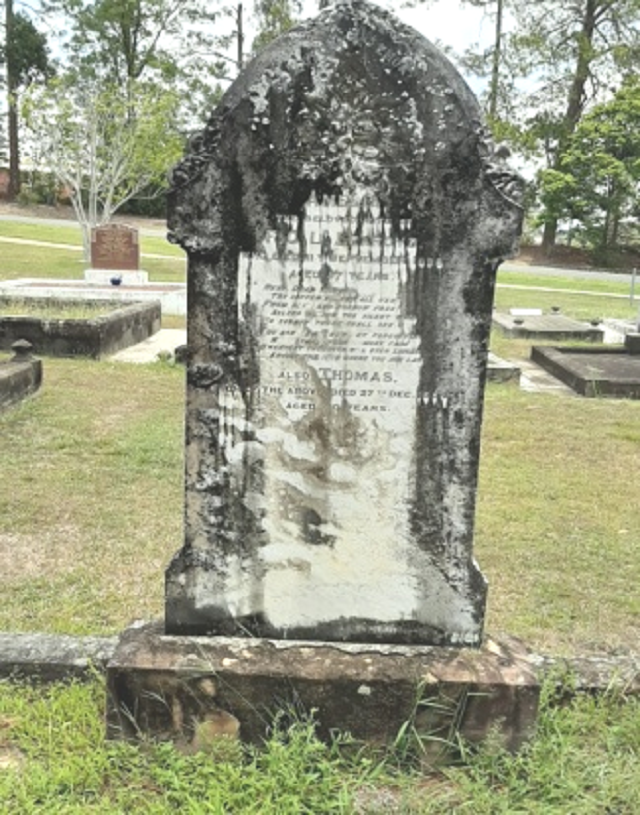 The Gympie Family History Society conducts regular 'Cemetery Crawls' where history buffs and the curious collide to discover the story of the lives of the people interred in the graves they visit on the crawl. One such crawl learned about the Learoyd dynasty – Frederick George his wife Amelia, their first-born son Thomas, and grandson, John.
Grandfather and Father Frederick George Learoyd was born in Yorkshire, England around 1843 and his wife Amelia (nee Schofield) was born at Rochdale, England in 1841.
They married around 1863 when Frederick was working at the Brandon Colliery as a coalminer.
Ten years later they decided to leave London England aboard the sailing ship "Juliet" arriving in the Port of Brisbane on 4 August 1874 with Frederick, now aged 30, Amelia 32, and their children Thomas 9, John 7, and baby George.
Amelia is the first of the Learoyd family to be buried in the plot.
She was the daughter of Joseph Schofield of Rochdale, England.
Amelia and Frederick George had a family of eight children however only four survived into adulthood Thomas, John, George and Queensland born Sarah Jane who later became Mrs M Smallen.
Amelia was 57 years of age when she was admitted to hospital from her home at Paradise where she had lived with Frederick for a number of years.
She died in Gympie Hospital on 11 September 1898 and was buried in the Gympie cemetery the following day.
Frederick George reached the age of 83 years when he died on 18 January 1925.
He was next buried to Amelia the same day he died.
The beginning of his Australian story revolves around mining in Gympie where he and Amelia lived in the One Mile area.
In 1881 he was appointed, along with several others, as a director of the No. 1 South Hibernian Reef.
He was still a miner at the Golden Crown mine where, on 2 March 1882, " He received some nasty cuts and bruises from an explosion of a portion of charge remaining in the bottom of the hole left by the preceding shift".
The following year in April 1883 he became a provisional director of the newly formed Gympie Co-operative Company.
There were quite a few positive newspaper reports about the lead up to this appointment.
He was on the rise, when he became the manager of the South Glanmire and Monkland mine in May 1883.
He and Amelia moved from the Gympie area in 1888 when Frederick was appointed manager of the Mount Rose & Stockman Junction Gold Mining Company. Mount Rose later became known as the town of Eidsvold.
He and Amelia took up residence around Paradise alternating between the two towns.
The Learoyds' vacated their Gympie home permanently in 1892 and were taken off the electoral register.
During the 1893 floods tragedy struck when the Gympie house that they still owned was swept into the western fence of the One Mile School.
It was never rebuilt.
Following Amelia's death in 1898 Frederick worked at a number of sites in and around the Paradise Gold field.
According to newspaper reports in 1900 Frederick had returned to Mount Rose following an accident in which he had lost his hand.
Another article mentions his new wife being welcomed to the town of Mount Rose.
From records he married Mary Hall in 1900, the widow of William Hall of Gympie.
Thomas, the first-born child of Frederick and Amelia, was born in 1864 in Yorkshire.
Sailing from England would have been such an adventure for a 9 year old.
It should be unsurprising to learn that Thomas also became a miner in Gympie and invested in shares of the South Glanmire and Monkland mine before the decline in 1888.
The following year on 16 August 1889 he married Elizabeth Jane Northey from Jones Hill.
Her parents were Thomas and Agnes Northey long time residents of the area.
Thomas and Elizabeth Jane made their home in Hilton Road where their eleven children were born – sadly only four made it to adulthood – Thomas, John, George Schofield and Frederick.
Like his father he was a member of the Excelsior Lodge.
Three weeks before his death Thomas was working at the No 1 North Oriental and Glamire mine.
He suffered a "slight accident when a small piece of steel pierced his left arm near the elbow".
Over the following three weeks Dr. Ryan administered various treatments all to no avail as he succumbed to blood poisoning in the early hours of 27 December 1904.
Thomas was forty years old when laid to rest in the family plot the following day.
Elizabeth Jane married William Tweed on 18 February 1918 and died in 1935.
John Learoyd is the final person to be interred in the site on the day he died, 19 January 1962.
He was the son of Thomas and Elizabeth Jane and Grandson of Frederick and Amelia and was born on 9 June 1891 in the family home in Hilton Road.
He spent his younger years in Gympie before heading to Murgon where he met his future wife Mary Ann (1883- 1958) the daughter of English migrants William and Margaret Creech. They married on 15 November 1920.
John and Mary Ann lived in Jordan Street Murgon while John worked as a labourer.
They raised three children in the town and had interests in breeding and showing Plymouth Rock chickens – winning the Cock and Hen 2nd place awards at the Murgon show in 1932.
John was also a member of the Murgon Rifle Club from 1923 onwards.
Mary Ann died 12 August 1958 and John died at the age of 71 years.
* Researched by Robyn Dahl.