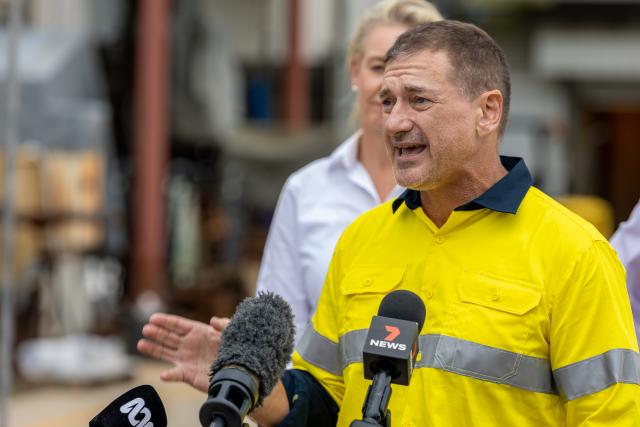 Arthur Gorrie
"We couldn't let them get off Scott-free," Labor's Geoff Williams said as he pondered a federal election win for his party, but a less than successful tilt for him in Gympie's Wide Bay electorate.
The continuing representative of Gympie's Wide Bay electorate, Llew O'Brien was celebrating his own success but less so the failure of the Scott Morrison Coalition federal government.
"While we achieved a good outcome in Wide Bay I am disappointed with the national result," Mr O'Brien said on Tuesday.
"Putting your hand up to be a candidate in an election is a big thing, it is costly, it involves a lot of time and energy, and rightfully invites scrutiny, and I acknowledge the other nine candidates in Wide Bay for their efforts."
Mr O'Brien easily held on to his Wide Bay electorate, but Labor, though well down in the count, ran a creditable second place in a safe LNP area, way ahead of any of the other eight challengers.
"I thank the voters of Wide Bay for the trust they have placed in me, I am honoured, humbled and grateful for the support that I have received from so many people and I will continue to put Wide Bay first and foremost in everything I do," Mr O'Brien said.
"I also thank the many volunteers who braved the wet weather on polling booths for their support. Standing for hours in your team colours can be a tough job and the weather didn't help, but that didn't diminish their enthusiasm and I value their help," he said.
"I congratulate Mr Albanese on his elevation to Prime Minister but a change of government doesn't mean a change to the things that are important to us in Wide Bay.
"We need to continue making investments in the Bruce Highway to make it safer for all road users.
"The Liberal and Nationals Government committed $800 million for the Gympie bypass and $269 million for the four lane Tiaro bypass and now we need the new Government to commit funding to the Bruce Highway for four lanes from Curra to Tiaro and Tiaro to Maryborough.
"I will work to hold the new Government to account, to make sure it is focussed on the regions and not just the inner cities, and I'll work to ensure Wide Bay gets its fair share," he said.
Mr Williams was enthusiastic about Mr Albanese's Labor victory and credited him and Kevin Rudd for the "shovel ready" start they had made on the Cooroy to Curra bypass, as then PM Mr Rudd searched for projects to fund to lift Australia out of the then World Financial Crisis.
"We had to give it a go," he said.
"We couldn't let them get off Scott (Morrison)-free, if you'll pardon the pun."
Mr Williams said the new government would be implementing big improvements in child care, aged care, Medicare and the NDIS.
"And you can't get a general practitioner to bulk bill in Gympie," he said, "even if you can at Tin Can Bay.".