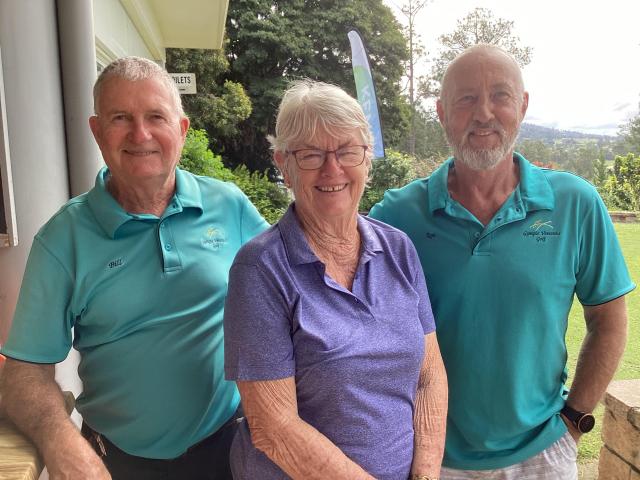 Yoey Coogan
Well it was hard work at the office on Tuesday 17 May for the Gympie Golf Club Vets.
It was extremely wet and sluggish on parts of the course but looking at the brighter side of things they did get to play golf.
The day was sponsored by Clawfoot Baths – many thanks to Ron and Karen Hall for their sponsorship.
A grade winner was Bill Longstaff on 37 points.
Coming in second with 35 was Doug Sutton and in third on a countback was Gerry Dunbar to Bruce Godden on 34.
Not too sure what course Bill played but to score 37 on those tough conditions is worthy of note.
B Grade winner was Russell Ashby with 33 points, coming in second with 31 was Ron Edwards followed closely by Ed Rowlands on 30 points and in fourth place was Peter Love on 28.
C Grade winner was Col Morley on 33, followed by Geoff "Mash" Barling on 31, just in front of David Walthall on 30.
In fourth place was Alan Cove with 28 points.
Everyone got a ball in the run down.
Well done, Clawfoot Baths.
Accuracy drive was won by Alan Cove.
Lesley Sutton got the ball in the pink bag.
Pin shots: No. 3 B grade was Bill McNaught. C grade on No. 6 was Bob McPherson and all grades on No. 16 was Ken Burford.
There was great camaraderie in the member's room.
Ron Hall had asked that all winners stay to receive their prizes.
If you weren't there it went to the next person down – wonderful idea Ron.
Jelliatrics went to Ron Edwards (the sweetest tooth in town) and Ray "Mallee Bull" Dunkley.
Ron was playing with Ray Dunkley and on No. 5, Ray hit a magnificent shot to the green only to find that he had hit Ron's ball.
On No. 1, return of serve, Ron hit a magnificent shot only to find that he had hit Ray's ball. Much laughter!!
Next Monday, 30 May, the Vets will travel to Hervey Bay.
On 14 June will be the 4BBB nett/stroke Championships and on 16 June, the Vets will host the District Team Match Play.
Please contact Andrew Towning if you can help in any way – they are looking for carts to hire and spotters.
On 28 June Gympie Golf Club will host Nambour.
Thought: "A shot that goes in the cup is pure luck, but a shot to within two feet of the flag is skill." – Ben Hogan
Happy hitting.