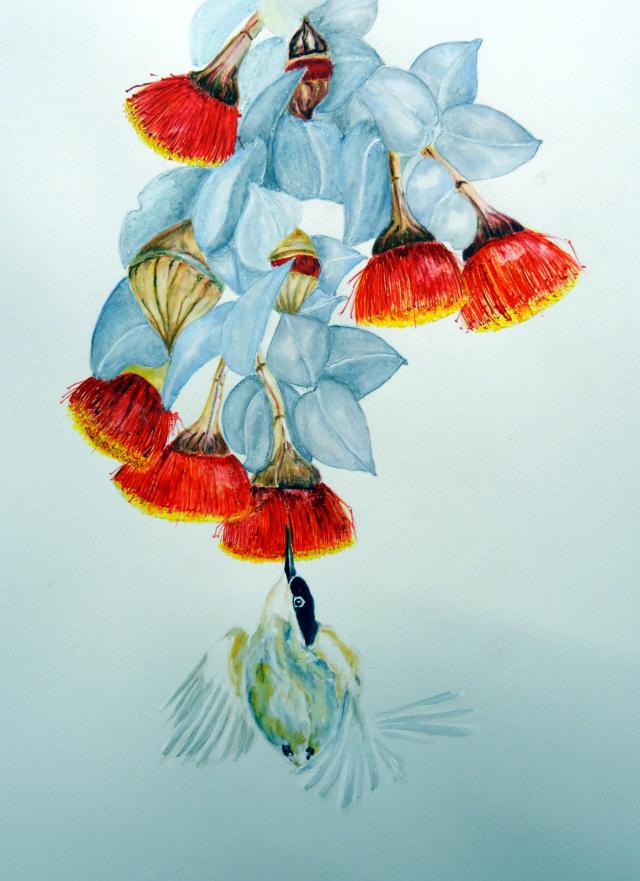 Despite the cancellation of its opening due to mitigating factors of rain and the unfortunate ill health of special guest Enid Mayfield, Saturday 8 January saw a regular stream of visitors to the Exploring Nature with Noosa Botanical Artists exhibition.
Making the most of Pomona's railway carriage gallery, the Botanical artists of Noosa Arts and Crafts Association filled the walls with their lovely traditional watercolours, drawings and cyano prints.
All work presented reveals high standards of accomplishment.
Annelise Howes's 'Eucalyptus Caesia' continues the fine tradition of the watercolour medium, as does her charming mixed media, 'Wallum Habitat Noosa' along with 'Oncidium varicosum' a pleasing rendition in watercolour and graphite
The deft eye of one early arrival saw the first sold sign with the snapping up of Mollie McCloskey's underpriced mixed media 'Papilio aegus'.
This was complemented by her other works such as the accomplished 'Banksia serrata' and 'Banksia integrifolia' which would surely win the admiration of Joseph Banks himself.
Gabi Dick's distinctive, well-executed watercolours 'Eucalyptus macrocarpa' and 'Vireya rhododendron' vie for the discerning viewer's attention and Robin Limmer's watercolour 'Eucalyptus' provides a distinguished rendition of its modest subject.
Ann Coppard's watercolour 'Ficus Watkinsonia' is another wonderful contribution, as is her quirky rainforest linen shirt.
Among the group, Pauline Putland's 'Xanthorrhoea latifolia' is a standout, as is her delicately rendered 'Picabeen Berries and Fig Bird'.
This is a show not to be missed – 'Exploring Nature with Noosa Botanical Artists' will be on show until February 3 2022 at Pomona Railway Gallery Pomona.