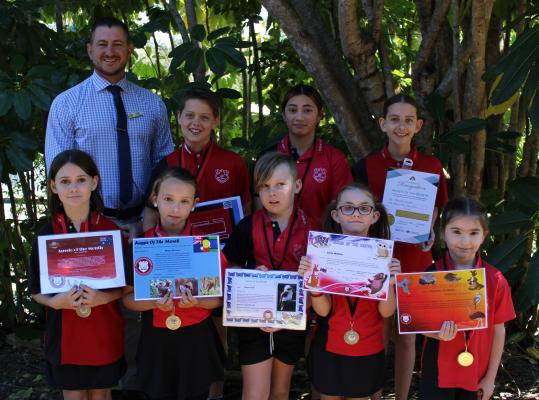 At Gympie West State School, they celebrated their successes on a special parade on Wednesday with Damon Rehbein, Deputy Principal from Gympie State High School.
Mr Rehbein was there to present three Year 6 students with a scholarship to attend Gympie High next year.
Finn Costa (Academic), Cooper Fraser (Sporting) and Kayleb Weaver (Sporting) are the recipients of these scholarships.
While at Gympie West Mr Rehbein presented the Aussie of the Month recipients for September.
September Aussies of the Month are:
Prep: Sarah Watkins – Sarah enters the classroom with a smile and greeting every day. She is an active member of the class during carpet time and small group activities. Sarah always tries her best and is a role model to others. It has been a pleasure having a wonderful student like Sarah in Prep M.
Year 1: Charlotte McMullen – Charlotte is a quiet achiever in the classroom. She is a dedicated and hardworking student who strives to do her best across all learning areas. Charlotte is responsible and respectful to all those around her. She shows her classmates kindness and is always ready to help others. She is enthusiastic and has a love of learning. Charlotte is a role model to others and she is a pleasure to have as part of the class.
Year 2: Maiya Weaver – Maiya is a quiet achiever. She is a polite, cooperative and courteous student. Maiya consistently displays excellent behaviour and is a wonderful role model for others. She is a hard-working student who always tries her best, presents her work well and doesn't give up. Maiya is a kind and caring friend to all and is always willing to help.
Year 3: Oscar Priem – Oscar is a hard-working student who has achieved outstanding results in all learning areas. Oscar has a great knowledge base and enjoys sharing his ideas with peers during group discussions. Oscar has grown in maturity and is a valued class member. Oscar interacts positively with his class peers and loves to share his adventure stories. Oscar shows initiative and can be relied upon to handle responsible tasks.
Year 4: Kaelee Faint – Kaelee is a well-respected, enthusiastic member of 4RD. She continually works well and most importantly tries her very best in all situations. It is great to see Kaelee use her initiative and make decisions that positively impact her learning and the learning of others. Kaelee often helps others too which is fantastic to see. She really thinks hard about what she is doing and how she is doing it. Kaelee often uses before school and break times just to finish off work, to a standard that she is happy with. She should feel very proud of her independent work ethic, that will put her in good stead in the future.
Year 5: Ari Ogden – Ari is a positive student who consistently demonstrates being safe, being respectful and being a learner. He is always well mannered, cheerful and quick to smile. Ari is a polite, humble student making him well liked by his peers and the school community. He always works to the best of his ability and is quick to lend a hand to others. His work ethic will reward him with much success, now and into the future. Ari represents himself and the school with pride, making him the perfect candidate for Aussie of the Month.
Year 6: Alyssa Dunmore – Alyssa is a valued member of the year 6 cohort. She is always positive and willing to support the running of Gympie West State School. Alyssa consistently demonstrates the three school rules. She actively seeks and utilises teacher feedback to make improvements to her learning. Alyssa's friendly, mature personality has ensured her the respect of her peers and teachers. Congratulations on a great year Alyssa.
Principal: Marcella Kendall – Marcella always does her best for Gympie West SS. She is a diligent student who can be relied upon to work well in all school settings. Marcella is an exemplary school leader because of the example she sets and the respectful way she treats others. She is kind and considerate and is always ready to help.