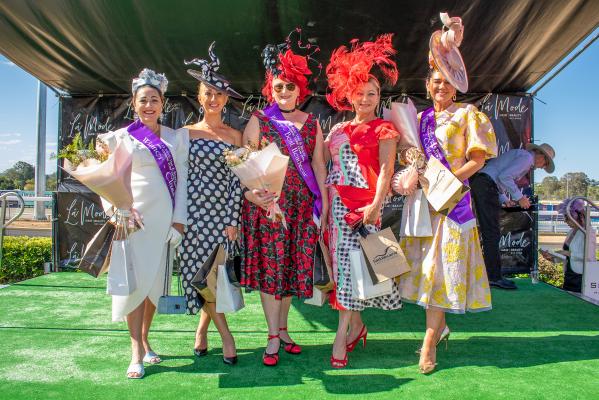 Despite the September races Ladies Day traditionally being all about the black and white, the Fashions on the Field competition was all about the colour.
From red to yellow, to blues and greens and every colour besides, all were represented in a extensive field.
But in the end there can be only one winner (and one runner-up) with Kikki Watt in crisp white taking the crown for Ladies Classic Racewear and Rebecca Jane runner-up in black with white polka-dots.
In the Ladies Contemporary Racewear category Verelle O'Shansey was declared the winner in yellow and peach with runner-up Kellie Mahlstedt sporting a striking flame red fascinator bringing out the red in her patterned skirt and blouse set.
Best Headwear winner Meredith Vincent's inspired fascinator perfectly mirrored the roses and barb-wire pattern on her '50s style dress.
Winning the category for Best Dressed Gentleman was Anthony Runacres in a classic, linen striped suit and peach jacket.
Runner-up was Aaron Jamieson in a contemporary casual look of long sleeved paisley print shirt and royal blue slacks.
There was an Oscar's gaffe moment when Best Headwear winner Meredith Vincent and husband Graham were almost crowned most stylish couple, however just before they were sashed, the compere announced he'd made a mistake.
Ultimately taking out the prize was Mickey Craddick and Les Fiegehen in black and white polka-dots for her, and navy suit for him.
Runners-up were Lucy Winterton in a red with black lace dress and Scott Younie in an electric blue sports jacket.