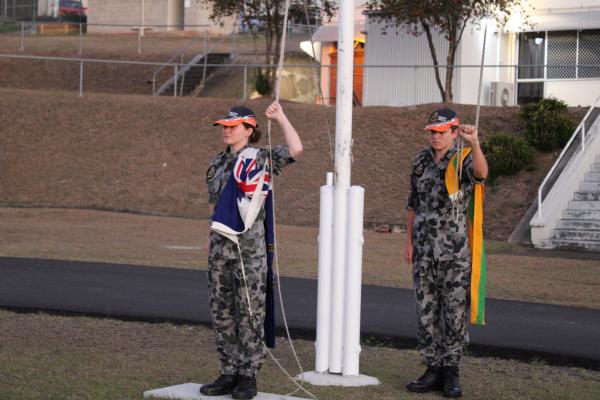 By Donna Jones
Fun, friends, cool uniforms and you get to go on trips and sail ships – what more could you want from a club?
The Australian Navy Cadets are looking for recruits aged between 13 and 17 years old, of both genders, to join up for some great fun and adventure.
Logan and Sienna Brady are brother and sister and joined at the urging of their mother, but have come to love their Thursday night parades with Sienna keen to become a Navy Chef.
Cadet Brady said she gets the best of both worlds, with a great career where she gets to see the world, get paid a great wage and she gets to do cooking, which she loves.
For Logan the appeal was simple.
"I like boats," he said.
"We did power boating first up but we also did sailing too.
"Of the four people there that day, the instructor said I had the best wind for it. It was fun," he said.
The cadets all get a chance to head out with instructor and former British Naval Sub-Lieutenant Brian Derbyshire to go sailing through the Tin Can Bay Yacht club.
He and former Australian Naval Sub-Lieutenant Bernie Sinclair run a tight ship with the cadets, but try to make sure they all have as much fun as possible and get the most out of their time.
And as well as being fun, the Navy Cadets play an important role in the lives of young people – providing them with a fulfilling career path and helping them find purpose and direction.
Newly promoted Seaman Kellin Walsh joined the cadets several months ago, and is already moving up through the ranks.
"I'm planning to go in the Navy in the future," he said.
He has enjoyed getting involved in the cadets because it's given him a goal to strive towards.
"It's a great job and I get to serve my country.
"Being in Cadets is entertaining and it's useful for real world skills," he said.
While he isn't sure yet which area in the Navy he is keen to specialise in, he doesn't mind, so long as he gets to sail.
"I really like sailing and getting out on the water," Seaman Walsh said.
And his advice for anyone keen to get involved?
"Definitely go. It's useful for practical real life skills and it's just fun," he said.
The Navy Cadets parade days are Thursday 17:45 to 21:00 (that's 5.45 to 9pm to us civilians) and there is currently space for between 10 and 15 new cadets, of both genders in the Gympie squad, aged between 13 and 17 years.
It doesn't cost anything for the kids to join, and it will provide them with lifelong friends and memorable adventures.
Some of the cadets are currently in Bundaberg for some power boat training, but regular cadet training will resume after the school holidays on 7 October.
For more information contact instructors SBLT Sinclair on 0416 029 143 or SBLT Derbyshire on 0458 507 052 or head online to www.navycadets.gov.au.