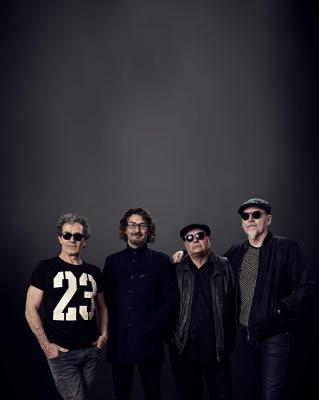 By Donna Jones
If some random bloke comes up and asks you if you have a sandwich or a hamburger next weekend at Rainbow Beach at the Big Summer Blowout, you may be in the presence of an Australian Rock legend.
Mark Gable, founding member and lead singer of The Choirboys said recently that is just the spontaneous, eccentric type of thing he is prone to do, much to the amusement of his family and friends.
This reporter first saw Gable and his band live at the Melbourne Tennis Centre on November 5, 1986, when the group were performing as the opening act for international rock superstars Bon Jovi.
Gable admits those were heady days when their biggest single and pub anthem, Run To Paradise, was charting.
"It was one of the first shows and we were back stage waiting to go on in Sydney and the bass player (Alec John Such) says, 'What's happening?'," Gable confided.
He said he and the band were feeling a little nervous so none of them responded.
'When we didn't answer he said 'So I guess nothing's happening, then?' and we all started laughing. That really helped us get into it," he said.
Gable said their biggest song, Run To Paradise, is often held up as an anthem against substance abuse.
"A lot of people think it's about heroine, but it's not. It's about escapism," Gable said.
He said in the early days he and the band were anti-drug, an unusual move for a rock band formed in 1979.
He was inspired to write the song after a friend of his was arrested while waking naked down a Sydney street after a bad trip.
"I went to see him and he said 'You probably think I'm a f***wit for doing that?' and I said, 'Yeah'," Gable said.
He said the lengths people would go to remove themselves from the ordinary was something he found 'amazing'.
Gable had a different reaction to his peers in the music industry to the recent upheaval due to the global pandemic.
"I've been affected differently. I've been touring since the '60s so I have been happy to have the break," he said.
"But when you start bugging people at cafes for sandwiches or hamburgers, that's when you realise you need to get back on the treadmill. I need to perform," Gable said.
He said the chance to work with Matt Smith and the boys from Thirsty Merc and the other performers at The Big Summer Blow Out next weekend is something he is really anticipating.
"I love them – they're a new breed. I like where their heads are at, musically. I think we're really only seeing about 10% of what the band is capable of.
"I'm looking forward to meeting up with friends and enemies. I'm looking forward to getting out there. Maybe we could have a country theme," he joked.
You can see Mark and the boys from The Choirboys, along with Thirsty Merc, The Baby Animals, Russell Morris and more at the Big Summer Blow Out at Rainbow Beach Community Centre, Saturday, 27 February.
Tickets are available at trybooking.com.