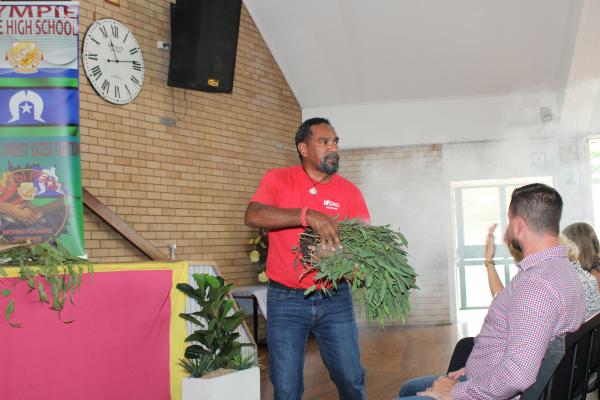 By Donna Jones
Gympie State High School was the only school to formally recognise National Apology Day last Friday.
Dignitaries such as Area Regional Directors for Education, local elders and many Indigenous and Torres Strait Islander people and representatives from James Nash State High School were in attendance, as were councillors Dolly Jensen, Bruce Devereaux and Dan Stewart.
The event was the fourth time GHS had commemorated the apology since the speech was made 13 years ago.
Principal Anthony Lanske delivered the opening address and Regional Community Education Counsellor Raylene Gibb, Cr Dolly Jensen and Indigenous student Ambassador Hal Daniel all spoke on the importance of recognising the Apology as a foundation building-block towards reconciliation.
Mr Gordon Browning then conducted a traditional smoking ceremony at the same time educating all in attendance on the significance of the ceremony to First Nation's peoples.
Gympie State High School's adopted Butchulla/Kabi Kabi Elder, Aunty Lillian Burke said in a written statement to Gympie Today she was disappointed more schools and organisations don't commemorate National Apology Day.
"It's disgraceful and disrespectful that a lot of people don't understand about the Apology Speech 13 years ago by the then Prime Minister of Australia, Mr Kevin Rudd," she wrote.
"The Apology was specifically to the members of the Stolen Generation, families and communities, for the genocidal Government policies, which let thousands of children be taken away.
"The Apology was for the pain and suffering of disconnection, the forced assimilation and the impact felt by many families," Aunty Lillian wrote.
"I firmly believe Aboriginal history should be taught in school from the very beginning for acknowledgement and understanding of Australian Aboriginal history.
"How can the First Nation's People and white Australians reconcile when there is negative and nasty people who don't and won't accept what happened?"