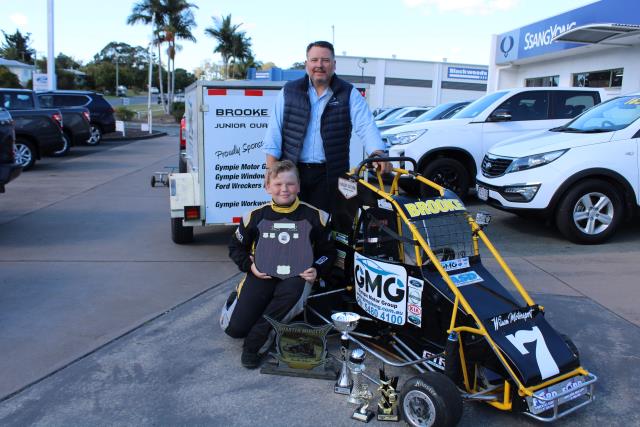 Donna Jones
In August and at only 11 years old, Brooke Wilson was the Junior Quarter Midget Queensland Club champion.
The youngster clocked up top points racing his 160cc Honda Midget car and has some rather impressive silverware to show for it.
And it seems that racing is in his blood.
Brooke is a third generation racer, with both Dad, Joel Wilson and Mum Michelle (nee Petersen) taking their turns around the Speedway circuit, not to mention his grandfather (Michelle's Dad), the local Speedway legend Pedro Petersen.
Now that he's made his mark in the Quarters, next year, after his 12th birthday in February, Brooke plans to go up a class into the Junior Formula 500.
This will mean bigger cars and more tracks with Maryborough, Gympie, Toowoomba and Archerfield circuits added to the tour.
Younger sister Charlotte will then get a chance to try her racing skills out in the Junior Quarter Midget Class in Brooke's current car, while Brooke gets some new wheels, courtesy of major sponsor, Duncan Cooper from Gympie Motor Group.
In the meantime Brooke has been honing his driving skills ahead of the new season.
But racing is not his only love, he also represented Queensland in the Under 13 State Championships for hockey, and also enjoys getting out on the field during the summer season.