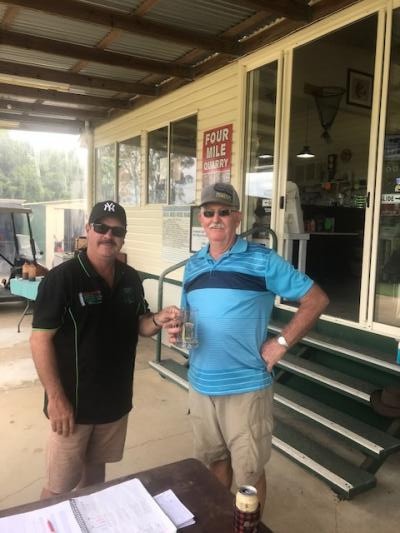 Darryl Swan
Once gain the weather was kind to Gunabul Par 3 Golf Club during the week allowing all to participate in several golf events.
Tuesday was a single stableford event and the winner with 40 points was Michael Curran and the runner-up with 37 points Andrew Warden.
The Neals Family meats pin shot winner was David Wippell on hole 4.
Thursday all day competition winners were, on the front 9 Tony Hayward, and on the back 9 the winner was Bob Knox.
The accuracy drive winner was Anne Martell.
Saturday was the Four Mile Quarry Monthly Medal, and the A grade winner, with a net 58, was Fred King after a playoff with Glen Lamperd.
The B grade winner, with a net 53, was Greg Kay and the runner-up, with a net 54, was Bill Nolan.
Bill also won the Sunshine Mitre 10 putting competition with 26 puts.
The Neals Family Meats pin shot winner on hole 12 was Brad Cottee.
Tomorrow, 4 December, is the annual Peter and Robin Snelling Champion of Mugs.
The following people have qualified for this event:
A grade: Marcus Sutton, Andrew Warden, Graham Rigby, Glen Lamperd, Lawrie English, Darryl Swan, and Fred King.
B grade: Gerry Burke, Bill Nolan, Rob Lumsden, Steve Grant, Paul Williams, Don Birt, Paul Hawkins and Greg Kay.
Next Tuesday, 7 December is the Champion of Mugs for the Tuesday competition.
The people that qualify for that competition are Rudy Vandermatt, Bob Abbott, Glen Lamperd, Rob Lumsden, Fred King, Michael Curran and Bill Nolan.
Happy Golfing