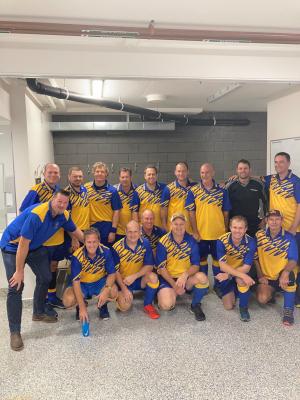 Gympie Masters Men's Hockey Team travelled to the Gold Coast last Friday to compete in the Queensland Over 34 State Championships over the following four days.
Gympie and District Hockey Director Ben Fitzpatrick said the team started off with a solid 1-0 victory over local rivals, Sunshine Coast.
"On Saturday, they followed it up with another 1-0 win, this time over Tweed. The boys went down 2-0 to Mackay in a rain affected match which saw the last 15 minutes of play abandoned due to a heavy downpour," Fitzpatrick said.
"These results put Gympie in second place in their pool and qualified for the top eight teams in the State.
"They then matched up against Toowoomba and battled it out for a 3-3 draw with both teams having plenty of opportunities.
"The last two games were up against the competition heavyweights and eventual finalists, Warwick and Fraser Coast. The boys battled their hearts out but eventually injuries and some younger legs took its toll, going down 3-0 and 4-0."
Fitzpatrick said it was another successful campaign from the Gympie Masters Team who continue to surprise much more fancied opponents at the annual State Championships.
"All this great work and effort was capped off with several played gaining selection in State Teams to compete at the National Championships to be held in Newcastle in September and October."
QLD Over 40's No.2 Team – Andrew Parker and Jason Grady
QLD Over 45's No.2 Team – Brad Morgan and Craig Whittaker
QLD Over 50's No.1 Team – Tony McKean
QLD Over 50's No.3 Team – Greg Steele
QLD Over 55's No.2 Team – Jeff Lancaster