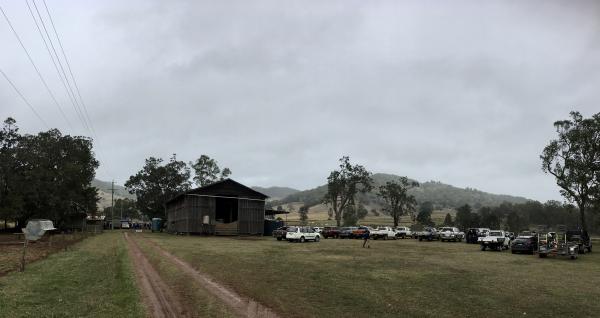 There was a bit of mud underfoot but it was a great sale day for Kandanga Valley Stud.
The bull auction on site on Saturday 25 July saw 106 quality, Charolais, Chambray and Red Angus/Charolais composites offered.
For Kandanga Valley's John Mercer he welcomed the rain and the sale results.
"We take a lot of pride in presenting the bulls in a fit state," he said.
"There was a bit of mud on them but the buyers didn't seem to mind. They bid up with confidence."
Top price achieved on the day was $16,000 for Lot 24 of the Charolais bulls, while two Chambray bulls, Lots 82 and 84, each reached $14,000.
Mark Scholes of Landmark, Rockhampton, reported 59 of the 60 Charolais bulls offered were sold at an average of $7,381, and 38 of the 40 Charbray bulls sold at an average of $8,000. The six Charolais/Red Angus yearling bulls sold at an average of $5,583 with Lot 106 the top price at $10,000.
John and Roz Mercer have been running Kandanga Valley Stud for 47 years and this was their 17th annual on-property sale.
"It was good to see the rain," John said. "There was a beautiful misty atmosphere.
"It was a pretty interesting sort of day."
Buyers were mostly from from Mackay, the Brisbane Valley, and through the Burnett including some good repeat buyers from Blackwater.
"There was some good local support this time," John said, "for which very thankful."
"We also had buyers from the Moreton area, including Beaudesert.''
John and Roz aim to breed consistently high performing Charolais and Charbray cattle to suit every environment.
"We turn off approximately 150 bulls per year," John. "We are the only stud in the Gympie region, that we know of, to hold on-property auctions.
"We will market another 50-odd bulls off the property this year. We will be preparing them for market in the next few weeks and be available late spring.''
Saturday's auction started well with the Charolais bulls, John said.
"Lot 1 kicked it off nice with Kandanga Valley Norton at 1050kg selling for $8500 to a Kilkivan buyer.
"Lot 3, Kandanga Valley Northampton, was 31 months and 950kg, and the price jumped up to $12,000 with an Esk buyer.
"It rolled on from there. Lot 8, Kandanga Valley Petey, went to Derbyshire Downs at Augathella for $15,000. They also purchased Lot 24, Kandanga Valley Passova, at $16,000 – 790kg and 23 months of age.''
"The Charbray topped twice at $14,000, the first one being Lot 82 Kandanga Valley Peeper, 27 months and 840kg, that went to the Suralski family from Carneys Creek.
"Lot 84, Kandanga Valley Prominence, was a very good quality young fellow at 19 months old, weighing in at 720kg. He went to some good repeat buyers at Blackwater, the Neilsen family.''
Bulk buyers in Charbrays were Greg and Shirley Callander from Sarina, who bought nine bulls.
The six Red Angus Cross Charolais yearling bulls, about 14 months of age, sold by auctions plus internet bidding for an average $5,583.