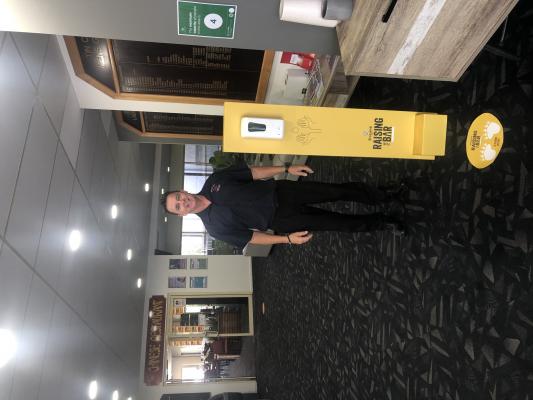 By Rose Astley
Returning to a semi-normal life during Covid-19 has been made just a little easier for the Tin Can Bay Country Club thanks to Bundaberg Rum's 'Raising the Bar' program.
The $11.5 million program aims to help regional pubs, clubs and bars get patrons back through their doors whether that be through donated PPE and hygiene items and even PR assistance.
Managing Director at Bundaberg Rum's parent company Diageo Australia Angus McPherson said that even though some restrictions have eased and venues have been able to reopen, there will be an ongoing financial burden on many venues.
"Venues must now regularly purchase safety equipment and supplies such as hand sanitiser and PPE," Mr McPherson said.
"Combined with the financial hit they've already taken following widespread lockdowns and severely restricted trading, Raising the Bar is about Bundaberg Rum helping our neighbourhood 'local' prepare for and get back to sustainable trading in this new environment so they can again be places for family and friends to come together and connect socially and safely."
Tin Can Bay Country Club Manager Brad Robb said the initiative has been extremely beneficial for the club, as the cost of keeping people Covid safe adds up.
"Instead of throwing money at clubs and bars, they've created this really great way to help get us back on track.
"We have automatic dispensers for hand sanitisers, there's markings on the floor to encourage people to social distance and sanitise their hands, which is great.
"But it's also great because it's a cost we haven't had to incur because it is surprising at the amount of hand sanitiser that gets used.
"It's an expense that you absolutely have to have, so having this support to help out our venue has been really great," Mr Robb said.
Mr Robb said that the club has been coping well through the pandemic, despite the lack of live music and entertainment.
"We've had a lot of new people come through the club that never used to before, business wise we're going really well considering the limitations.
"It is my goal to get more people back into the club, being the social hub of Tin Can Bay it is a nice place to relax and enjoy themselves."
A report from Diageo Australia demonstrated that nearly 20 per cent of regional Queenslander's are still not confident in returning to their local venues.
Mr Robb says he understands some people are still apprehensive about socialising in public, but believes the added safety measures from Raising the Bar will soon have more back through the doors.
From early November, Mr Robb said live music will begin to make a comeback into the club as restrictions continuously ease in Queensland, though dancing is still off the cards for now.
"We're excited to get a bit of background music back into the club on a Friday night, we're looking forward to supporting them because they've been out of work longer than we have.
"It's just another step in the right direction, and I'm quite happy to slowly ease back into these things, slow and steady wins the race.
"I'm a firm believer if we all do things the right way, we'll be better off in the long run," Mr Robb said.