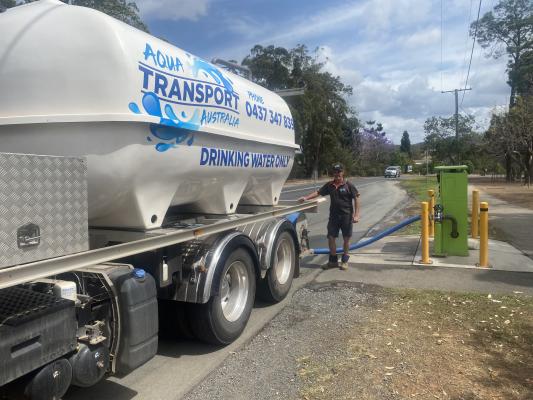 By Arthur Gorrie
Paul Thomas tells the unlikely story of a water carting contractor who is praying for rain.
"I want 50mm over the weekend so I can have a few days rest," he said as he filled his truck at Corella Rd water filling station this week.
Mr Thomas said business is so brisk he and other contractors can hardly keep up with demand from out-of-town residents whose tanks have run dry.
"It is our busiest time ever. We've done more water deliveries since the start of the financial year than we did in the whole calendar year last year.
"Dirt roads and dry tanks," he said.
His 10 to 15-hour days start at 5.30am. "I've had in excess of 100 people calling over the weekend from people requiring water.
"We're seeing big wait times for delivering water, with some people having to wait 10 to 15 days.
"We're not filling swimming pools at the moment. It's very hard to justify filling a pool when the neighbour's tank has run dry.
"The week before Christmas is now booked up," he said.
"The Christmas is going to be very important to people, after Covid.
"We've had not only dry weather but a lot of people with relatives stuck here and student family members who lost their hospitality trade jobs down the coast during the lockdown and are now living at home.
"Let's hope we get rain, but people really need to plan ahead."
And if it rains?
"Never cancel a water order," he said. "Postpone it instead. Then if there isn't enough rain, you've still got water coming and if it pours down, we can all just relax."
He also recommends people clean out their tanks once a year.
"Our most precious resource comes from the sky, but people need to look after it.
"This is great water," he said of the council drinking water supply he fills up with. "But if people have mud in the bottom of their tanks, it will make the water taste bad until it settles again in a few days."