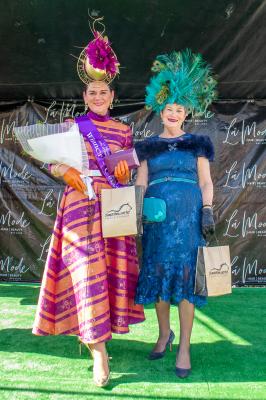 Saturday's line-up of Fashions on the Field contestants at the Nolan's Muster Cup certainly had some blue notes, with turquoise, cerulean and azure seemingly the colours du jour.
Winning the Ladies Classic Racewear category was Verelle O'Shanesy, in striking maroon and orange while runner-up Glenda Newick teamed a pacific blue lace dress with aqua blue and peacock feathers.
In the Ladies Contemporary Racewear category, winner Rebecca Jane teamed a powder blue and lilac black tartan number with classic black shoes and gloves and a lilac purple accented hat which also took out the Best Headwear category for her.
Runner-up in the category, Helen Strong teamed electric blue with black and just a hint of gold on her cosmic inspired hat.
The men also had the blues with Mick Nicholls sporting a grey-blue checked sports jacket, matching hat and slacks taking out the prize for Best Dressed Gentleman category, while runner-up Adam Torrens had a blue flat cap that matched not only the blue stripes in his checked shirt, but also his navy waistcoat. Adam chose to accessories with the hot pink pocket handkerchief, which picked up the same colour in his shirt.
The Most Stylish Couple, Glenda and Ross Newick both showed their blue colours, with Ross matching Glenda's colour palette with a blue suit and turquoise accessories.
Runners-up Kikki Watt and Mick Nicholls matched perfectly with her powder blue and peach accented dress complementing his grey-blue ensemble.