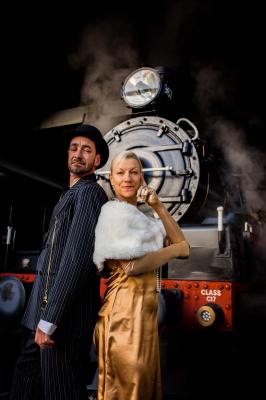 The rich, the glamorous and a murderer are preparing their finest wardrobes for a love and death encounter on board the Mary Valley Rattler's first-ever Murder on the Rattler Express, to be held on Friday 13 August – an appropriately ghoulish night for a homicide.
Providing a great opportunity to dress to the nines in 1920s glamour and glitter, passengers on board the Rattler will need to be at their sharpest to detect the murderer amongst them.
Each passenger will become a character in the drama, and can dress accordingly.
Upon booking, everyone will receive a special name for the journey, along with event money to bribe or blackmail, and an 'accusation form' that they can use to smoke out the murderer.
The murder most foul will take place at Amamoor Station, and passengers in each carriage will be able to use the return journey to Gympie to hone their investigative skills for the big reveal over dinner. The clues will be everywhere.
A drinks cart will operate on board the Rattler, and a seated dinner in Gympie Station's Rusty Rails Café will be where the murderer is revealed.
There will be prizes for the passenger who solves the murder first, and also for best dressed and richest player as a result of their wheeling and dealing with the event money.
The Murder on the Rattler Express service will depart the historic Gympie Station at 6pm on Friday 13 August, on a heritage steam train.
The Rattler will travel through to the historic village of Amamoor, where the Rattler is rotated on a restored turntable for its return journey to Gympie.
The meticulously hand-crafted carriages and the rolling hills of the Mary Valley will provide an atmospheric backdrop for passengers as they seek to uncover the murderer within their midst.
Tickets are $195 per person, including a set dinner at Rusty Rails Café and all the props required for playing the murder game.
General Manager of the Mary Valley Rattler, Micheal Green, said that it would be a mix of Cluedo, Great Gatsby and Murder on the Orient Express, but with a huge dose of fun and laughter along the way.
"There aren't too many opportunities for people to dress up and get into character, but we are hearing that costume and vintage clothing stores are receiving lots of inquiries, so we are looking forward to welcoming guests who are dressed to kill – literally!", said Mr Green.
"We are promising a night of mayhem, murder and mirth."
Bookings are essential, and the show is rated 18+.
To book head to www.maryvalleyrattler.com.au or call the Mary Valley Rattler on 07 5482 2750.