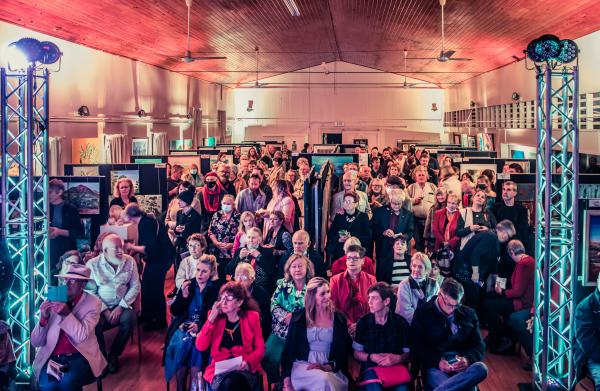 Opening Night celebrations for Mary Valley Art Festival filled the Imbil Show Hall with vibrant art, colour and conversation on Friday evening 23 July.
The 20th Anniversary exhibition Mary Valley Alive, Celebrating the Flora Fauna and People of the Mary Valley saw 20 plinths painted by local artists and displayed with the freshly hung art of the 10th anniversary exhibition composing of 120 artworks.
The committee were extremely happy with this year's festival announcing, "2021 is without a doubt the most successful festival yet with 740 visitors travelling to Imbil over the weekend. There were 350 artworks submitted to the competition with 25 artworks sold."
The Mary Valley Art Festival is supported entirely by local businesses who see the merit in supporting cultural tourism opportunities and also celebrating the fine work and dedication of artists across our community.
Organisers wished to express their thanks to all their sponsors on the night.
The winning artists were:
OPEN
Bendigo Bank Open Award – Wayne Smith, 'The Upward Trek'
The Twin Bunya Park Highly Commended – Kerrie Atkins, 'From Gods to Cat Food'
THREE DIMENSIONAL
Imbil Friendly Grocer Award – Paul Meakin, 'Africa'
Highly Commended – Jan Johnstone, 'Looking Away'
LANDSCAPE
Ron Jeffery Award – Ann Briggs, 'Western Vista'
Highly Commended – Leonie Lindsay, 'Desert Blooms'
NOVICE
GMT Heavy Mechanical Award – Tania Small, 'Dish of Liquorice Allsorts'
Highly Commended – Karyn Holman, 'Duck'
ANIMALIA
Coolabine Retreat Award – Eliza Talifero, 'The Treasure'
Highly Commended – Jacqui Close, 'The Art of Trust'
STILL LIFE
Imbil Railway Hotel Award – Jacqui Close, 'A Beautiful Pitcher'
Highly Commended – Tania Small, 'Two Pears on Blue'
HUMAN FORM/PORTRAITURE
Marina Taylor Award – Brent Harvey, 'Mobile and Comfort Blankets'
Highly Commended – Donna Louise Munro, 'The Midwife'
DRAWING
Lady Penelope Award – Melissa Maree, 'Wonderment'
Highly Commended – Joolie Gibbs, 'Wallum 1'
ABSTRACT
Gympie Living Award – Steve Blout, 'Noosa Sunset'
Highly Commended – Julie Mengel, 'Dreamscape'
YOUTH SECTION
Imbil Country Bakery Award – 1st Dana Rollings, 'Under Pressure' 2nd Jeanne Bridgden 'VW Montage' Encouragement Award Brooke Alford, 'Sea Nature' and Ruby Smith-Crossley, 'My Imaginary Escape'