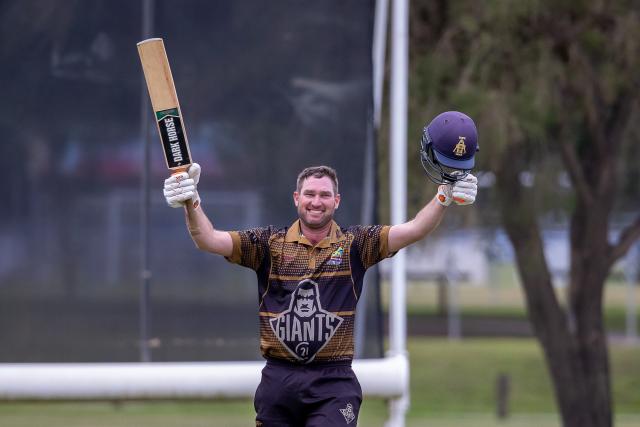 Shane Zahner
The first two games of the Bendigo Bank Big Bash have been run and won in an action packed opening day of festivities held last Sunday 31 July.
A solid crowd was in attendance as game one saw the defending premiers the O'Brien Plumbing Bushrangers take on the Gympie Motor Group Mustangs.
The Bushrangers hit the pitch first but were in trouble early with both openers going cheaply, but the trio of Josh Brady (19), Chris Langfeldt (25) and Andy Batten (35) were able to stablise the innings to post a moderate score of 7 for 124 off their 20 overs.
Matt Bruton and Alex Dunn were the pick of the Mustangs bowlers, picking up two wickets each.
In reply the Mustangs toiled hard but none of their batsmen were able to take control of the innings and steer the side home.
Some lower order hitting from Ashley Renouf (30 off 11 balls) was the highlight but ultimately the Mustangs fell 21 runs short, finishing 8 for 103.
Nat Bailey finished off the Mustangs beautifully, taking three wickets for 17 off his two overs.
Game two of the day was between the Century 21 Giants and the Calton Hill Dental Kings and it lifted the entertainment level considerably with sixes raining down from above all game.
The Giants batted first and sent the ball to all corners of the ground right from the outset.
Steve Brady was on fire blasting an unbeaten 102 runs off just 62 balls putting his name in the history books as the first player to score a century in the Bash which is now in it's second season.
Fellow opener Callum Stitt was just as destructive, belting 78 off 42 balls.
Captain Jared Sippel also chimed in with 42 not out off 16 balls to bring their total to a massive 1 for 232.
Unfortunately none of the Kings bowlers would want me to mention their bowling figures, so I won't.
In reply the Kings gave the total a good crack but it was always going to be a bridge too far, finishing all out for 151.
All rounder Michael Wostear was in fine form hitting 68 off 42 balls and Kings' captain Steve Ledger chimed in with a handy 36 also.
Harry Sippel, Jacko White and Blaine Schloss all picked up two wickets each for the Giants.
This week sees the return of the Friday night game along with the very first match of the Junior T10 Autosmash.
The Juniors will take to the field at 5pm with the two Gympie sides – the Mustangs and the Bushrangers – going head to head, which will be followed by the Mustangs taking on the Giants in the main game.
The Mustangs will be looking to fight back after their narrow loss last week while the Giants will look to bring their hot form into this game.
So make sure you head down to games nice and early and support our upcoming superstars.