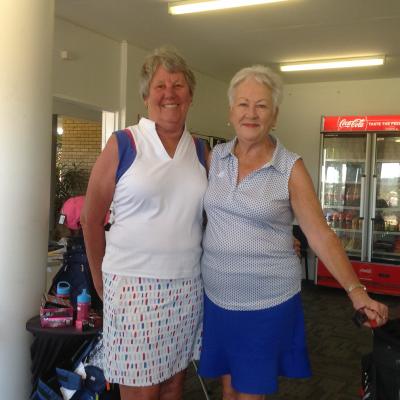 Dorothy Bramley
Last Wednesday, (22nd September) Gympie Golf Club Ladies played a Single Stableford competition.
Overall Winner was Yoey Coogan, returning home after a week trying out new clubs, on the Sunshine and Gold Coast circuits, with 35 points.
Runner Up, just one shot behind was Carol Ward (34).
Annette Slater (31), Clair Thorburn and Del Groundwater (30) won balls in the Rundown.
Pin Shots: Open: Nearest to the Pin – Par 3 – 16th – A Skinner.
Division 1 – 2nd Shot – Par 3 – 3rd – A Skinner, Division 2 – 2nd Shot Par 3 – 9th – Betty Bailey.
A very happy Jean Peters is off to enjoy her coffee compliments of Eat at Candy's, Mary Street.
A very delicious afternoon tea, with freshly baked cupcakes and mini caramel tarts provided by Lorraine Elliott and Del Groundwater, was enjoyed by the ladies after Wednesday's game to celebrate the September birthdays – Yoey (6th), Helen (11th) and Dorothy (20th).
Hope you had a lovely day.
Thank you Lorraine and Del – very delicious.
Saturday (25th September), in what turned out to be a summer's day with a maximum of 32 degrees the ladies played a Single Stableford with Del Groundwater (34 points) the winner on a countback from Jean Peters (bridesmaid again!).
Annette Slater (33), Maureen Carroll (30), Grace Kelleher, Dorothy Bramley and Carol Ward (29) won balls in the Rundown.
Pin Shots: Division 1 – 2nd Shot – Par 3 – 6th – Del Groundwater, Division 2 – 2nd Shot Par 3 – 12th – Yoey Coogan.
Birdies: Two birdies were recorded: Lydia Costello – Par 3 – 16th, Lorraine Elliott – Par 3 – 17th.
Great shots ladies.
Tomorrow (Saturday 2 October) ladies will compete for the Saturday October Monthly Medal and Wednesday a Single Stableford is scheduled.
Please note the AGM will be held on Wednesday 27 October in the Members' Room commencing 9am.
A light lunch will be provided to members who attend the meeting followed by 18 holes of Single Stableford – 3 clubs and putter.
Check the Noticeboard for more details, nomination forms etc.
Also on the notice board will be a sheet for you to sign to indicate you will be attending as numbers are needed for catering purposes.
A Cooroy Invitation 4BBB Stableford Tee Up for Breast Cancer is being held Thursday, 21 October.
For more details check the Away Book in the members' room.
Happy golfing and keep smiling.