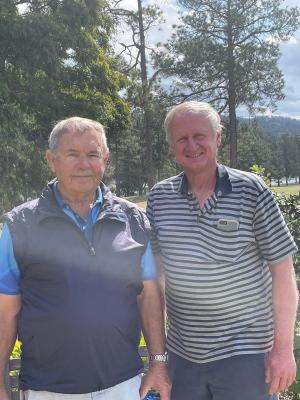 By Yoey Coogan
On the last day of winter, 70 Gympie Veteran Golfers played a 4BBB stableford competition.
The team to nab first place with a terrific score of 47 points was Graeme Major and John Kenny, followed closely on 46 points by George Fewtrell and Bill Swan and in third on 45 points were Gerry Dunbar and Mark "2 Stroke" Stratton on a count back to Captain Andrew Towning and Lesley Sutton.
The Ball run down went to 43 and there was a great score birdie on No. 17 from Terry Donoghue.
Pin shots:
A grade on No. 6 was Ken Wilkins 3 balls. B Grade on No. 3 was Kim Blackburn 3 balls, Mark "2 Stroke" Stratton 2 balls, Terry Hansen and Peter Love 1 ball each. C Grade was Bill Swan 3 balls. Kevin Schmitt won the accuracy drive and Robin Kingma the Club Pin on 16.
Denis Nissan and Geoff Tompkins won the NAGA while Don "I Never Win" Griggs and Ray "Mallee Bull" Dunkley won the Wild Draw card.
Please note that Tuesday next week (14 September) is the AGM commencing at 9am followed by the Monthly Medal Stroke at 10am.
On Tuesday 21 September, the Gympie Vets will host the Cooroy Vets Club.