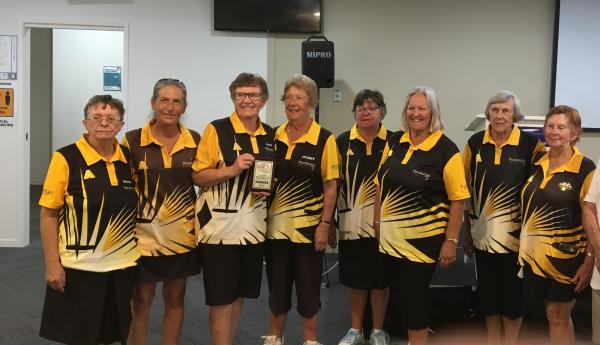 The cream came to the top recently when the Kandanga Bowlers brought home the spoils from the Great Bowls Challenge Finals at Mooloolaba. This is a competition played over six weeks which involves men and women's clubs from the region between Gympie to Bribie Island. When nominations were called early this year, our Kandanga men nominated a team, but our ladies were reluctant due to a shortage of players.
The Great Bowls Challenge committee encouraged Kandanga ladies to nominate a team to prevent a Bye occurring. We agreed to field a team in Division 5, which saw us playing against Pomona, Kawana and Maroochydore. The Kandanga Men were in Division 3 playing against teams from Albert, Tewantin/Noosa and Nambour clubs.
After the six rounds, both the men's and ladies teams were on top of our respective divisions. This was remarkable considering the size of our club.
A win in the semi-finals against Solander Lake at Coolum placed the ladies' side in the final played at Mooloolaba where we were delighted with our win against Glasshouse Country.
The men's side did extremely well to win the quarter final against Buderim at Caloundra. They were unfortunately defeated by Coolum in the semi-final, but the efforts of both the men and ladies brought home a handy $3490 to Kandanga Country Club.
Coming Events
Mixed Jackpot Pairs 6 May at 9.30 am
Barefoot Bowls 9 May at 3pm
Mens' Jackpot Pairs 11 May at 10am
Trivia Night at 12 May. All welcome
Wildcard Pairs May 16 at 1pm
Barefoot Bowls May 23 at 3pm
Kandanga Ladies Invitation Pairs May 27 and 28
There is always something going on around our club and new bowlers are always welcome. It's a great way to spend some time outdoors.
To learn more about what goes on around our Club, go to the Kandanga Country Club website, or follow us on Facebook.