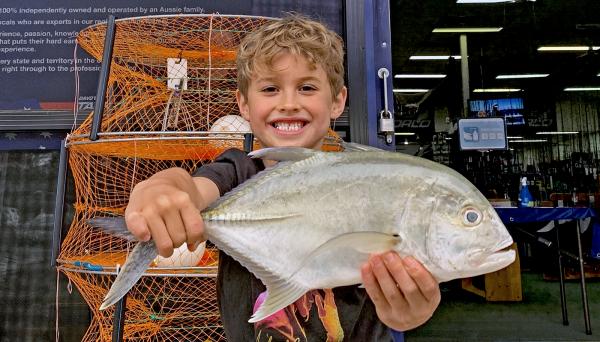 With some near perfect days last week and on Sunday plenty of anglers loaded up there boats and headed over the bars. The reefs off Double Island fished well with some solid amberjack and jew taken. Anglers using large live baits were able to entice big amberjacks up to 20 kg from the bottom. Some anglers also did the overnighter and were able to claim some good frying pan snapper, frying pan bream sweetlip and red emperor.
Up in the bay and the Sandy Straits the school mackerel have been marauding schools of baitfish up and down the coast. If you think Tuna bust up it is a similar principle, smaller slugs and plastics cast and retrieved at speed has been the best approach.
To the south, anglers out of Noosa have had a good week with plenty heading to North Reef. With the closure in snapper and pearl perch anglers have been targeting species like jew, sweetlip, Maori cod, tuskies and coral trout. Fishing hard to the reef with live baits has been a great approach.
It's good to see so many anglers coming instore and purchasing release weights over the last couple of weeks. Using a release weight is the best way to give any reef fish a fighting chance after being pulled up from the deeper depths. If you are not sure how they work call into the store and we can run through it with you.
On the beaches the conditions have been fantastic, last Sunday was one of those days were the clear skies and mid-morning tide got plenty of angler out in there four wheel drives and heading onto the beach. Reports from the Noosa North Shore have been good with plenty of angler reporting smaller schools of tailor moving up the coast, unfortunate we are seeing those bigger schools heading north but a little further out to sea.
Whiting on the other hand have been in good number with plenty of fish taken in the gutters with the top and start of the run out the best times to fish. Freshly pumped yabbies, live worms and pippies have all been the better baits.
For anglers heading to Fraser with tailor in mind the reports are still a little slow as it is just that bit early. Don't forget the area between Indian Head and Waddy Point is closed to the taking of finfish from midday 1 August to midday 30 September.
For those slide baiting off the Island there have been some great captures, big jew, tuna and Spanish mackerel have all been landed off the beach. Another form of fishing that is becoming very popular is drone fishing. There have been some great improvement in drones and battery life giving anglers a better opportunity to put bigger bait in front of the fish.
Tin Can has been very busy with plenty of small craft taking advantage of the conditions and heading out. Whiting are at the top of the list this week with plenty of quality fish on offer.
Out towards Inskip the trevally have been active feeding on schools of baitfish on the incoming tide. Smaller Jigs worked through the schools has been very effective.
Flathead numbers have also been good with plenty of angler reporting good fish on the run out tide. Small pilchards, whitebait or hardy heads rigged on size 4 ganged hooks that are lightly weighted and cast upstream on the runout has been very effective.
Up in the Mary and the Susan, there is a chance of a thready or two. Jewfish are also possible from the deeper holes at night, and with some warmer weather this week even a barra could be on the cards.
Now for all the latest information log onto www.fishingnoosa.com.au for up to date bar and fishing reports, don't forget to drop into Davo's Tackle World, Davo's Boating and Outdoors in Noosa and Davo's Northshore Bait & Tackle in Marcoola for all the right equipment, bait and advice to get you catching. Be sure to follow us on Facebook and remember Tight Lines and Bent Spines!