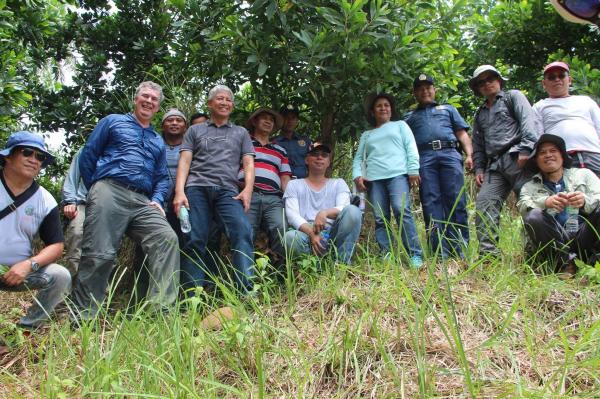 Successful milestones in a $3million reforestation project in the Philippines indicate it could be adopted by low-income farming communities in degraded tropical environments across the globe, according to a University of Sunshine Coast researcher.
USC Research Fellow Dr Nestor Gregorio, who has studied and worked in the Philippines for two decades, has been buoyed by interim results of the project, piloted in the province of Biliran where the economic need for agriculture had resulted in mass native tree clearing.
The advances made by the project, led by Dr Gregorio and USC Forest Research Institute Director Professor John Herbohn and funded by the Australian Centre for International Agricultural Research, recently featured on the front page of the Washington Post.
Dr Gregorio, who joined USC five years ago, said the Biliran community had embraced the implementation of the new research, now at the halfway point of a five-year timeline.
"It was also chosen by the International Union for Conservation of Nature as one of seven case studies that were enhancing food security through forest restoration," he said.
"We're pleased with the international recognition because it shows the global relevance of what we're doing, and how the research could be applied in other tropical island nations.
"Billions of dollars have been spent globally on reforestation projects, including some with poor results, so this project is exciting because it promotes the efficient and effective use of very limited resources and is achieving both socioeconomic and biophysical impacts."
Dr Gregorio said the pilot had so far restored 26 hectares in Biliran with a "very high" tree survival rate of about 90 percent and tree heights up to 15 metres, and was now being adapted to nine other upland communities in the Philippines.
It involved high-quality seedling and nursery techniques, tailored choices of fast-growing native and exotic tree species, local consultation and involvement, and permanent monitoring by the rural communities for short-term and longer-term benefits.
"Our focus is on enhancing people's livelihoods, because large-scale reforestation programs in tropical developing countries are mostly implemented by small landholders or resource-constrained farmers whose means of living is dependent on forest lands," he said.
"If reforestation provides immediate food and financial returns, it becomes a basis for ongoing ecological restoration."
He said specific areas were set aside for different purposes with staggered timelines, such as growing fruit trees and vegetable crops, timber milling or tree-planting for conservation.
"We allocate production zones for fast-growing trees to harvest, and protection zones for native trees to enhance ecological sustainability – from providing food for wildlife to stabilising slopes at risk of landslide," he said.
"One of our goals is to develop a simulation model that can be individualised for each community, identifying key areas for intervention such as technical and financial support, improved governance and technology."
Dr Gregorio said he was looking forward to inspecting the progress in person when Covid-19 travel restrictions were lifted. In the meantime, he continues working on the project from home and the USC Sunshine Coast campus.
"The restrictions haven't stalled the project because the sites are surrounded by their communities and we are in constant contact with them and our project partner, Visayas State University," he said.
Professor John Herbohn said forests were vital for sustainable agriculture and food security, with more than a quarter of the world's population relying on forest resources for their livelihoods and energy.
"Forests are at the heart of a sustainable planet."