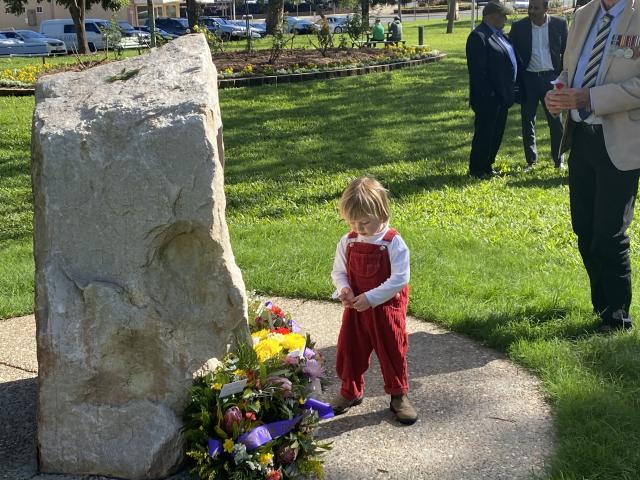 Arthur Gorrie
The once unrecognised Aboriginal and Islander heroes of Australia's wartime efforts have become part of the Anzac legend and more recently a prominent part of Gympie's history.
Gympie veterans and supporters, including a visiting group from Cherbourg, acknowledged on Tuesday those contributions, on the first birthday of the Gympie region's tribute to our Aboriginal warriors, a special commemorative stone in Memorial Park.
For Gympie elder, Lillian Burke, the stone was a long awaited part of the recognition she helped earn for her people, with the help of Gympie region councillor Dolly Jensen, who quickly recruited the then-new Glen Hartwig council.
That was part of a 13-year project to achieve greater recognition.
Mayor Glen Hartwig said it was a project that took too long, despite the best will of his council.
All of that raised the question of how the World War I indigenous veterans felt when things were even worse.
The ceremony on Tuesday was told of the efforts of all the First Nations people who thought of themselves first and foremost as Australians, even to the point of lying to say they were Indian or Asian in order to overcome the ban on Aboriginal people being sent to war, as they were not regarded as citizens.
"Suddenly they became Maoris so they could go to war," said visiting Cherbourg Vietnam veteran Eric Law AM, who congratulated Aunty Lillian on her efforts to ensure their people and their contribution were not forgotten.
"Together we can get up, stand up, show up and be brave to make change," she said.
Mayor Glen Hartwig said the stone had opened many people's eyes, even if it had taken a long time for the council to act on the community's wishes.
MC Henry Neill said Aboriginal advice to the new colonists was often ignored, to the cost of the colonists.
"Our advice was mostly 'Don't go that way, there's no water,' but what did they do? They went that way," he said.
RSL president John Herlihy said Australians were well aware of the injustices suffered by "our First Nations people who gave their lives in conflict, after they had willingly, unselfishly though perhaps naively joined the Australian Military Forces to fight oppressors in foreign lands."
In World War II they largely served on equal terms, but after the war in areas such as education, employment and civil liberties, Aboriginal and Torres Strait Islander ex-servicemen and women found that discrimination remained and indeed had got worse.
"For example, many were barred from Returned Services League clubs except on Anzac Day," the Gympie RSL sub branch president said.
The injustice of permitting an Aboriginal and Torrest Straight islander to fight and possibly die for his country but not to vote was clear to many – and it wasn't until 1962 that indigenous people were allowed to vote.
"Today we honour our Aboriginal and Torres Strait Islander warriors," he said.
Mr Law said it was about sacrifice and service.
One passing observer was two-year-old Banjo Davidson, who asked permission to place his own flower on the wreaths laid at the commemorative stone.