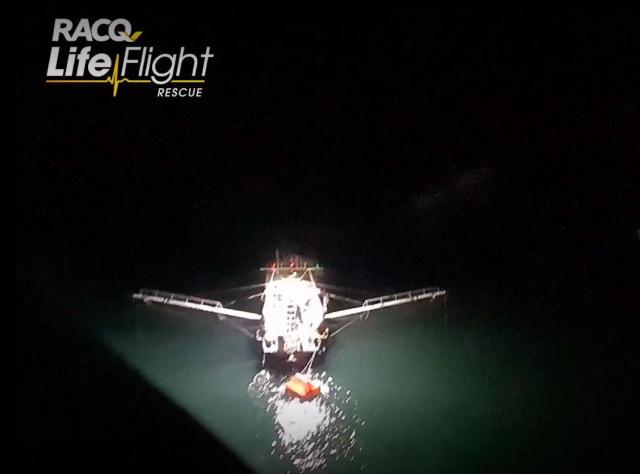 The Bundaberg RACQ LifeFlight Rescue helicopter crew has assisted in a mission to help four trawler crew members, who set off an emergency beacon, after their boat was damaged off K'gari (Fraser Island) overnight.
The rescue crew was tasked by the Australian Maritime Safety Authority (AMSA) to locate the 15 metre vessel, around 2.45am Monday morning, after its EPIRB (Emergency Positioning Indicating Radio) was activated.
The four people on board reportedly deployed a life boat as a precaution, in case they needed to abandon their trawler, which had damage to its hull and propeller.
In a statement from Queensland Ambulance Service the vessel reportedly struck an unknown object.
The rescue helicopter crew flew to the northern tip of the popular tourist island and located the trawler north east of Sandy Cape Light House.
The chopper crew made contact with the boaties on board.
It was decided the safest option, was for them to remain on the trawler and nurse it slowly to the Rooney Point area, to anchor.
The rescue chopper crew hovered above, accompanying them on the journey and monitoring their progress to ensure they were safe.
A Challenger 604 fixed wing aircraft was also deployed by AMSA.
The fishing vessel safely anchored and was met by Volunteer Marine Rescue, who transported one teenage crew member back to Hervey Bay for treatment for an unrelated medical condition.