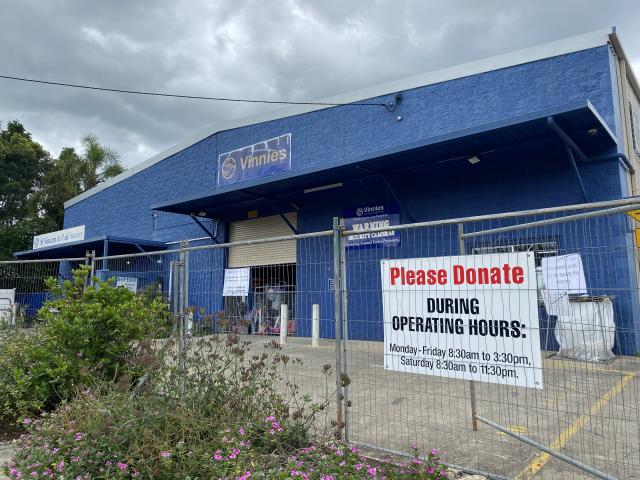 By Rose Astley
Gympie opportunity shops are pleading with the public to be mindful about the items they drop off to be donated.
From blood and faeces stained bedding and bald tyres to couches with the stuffing torn out, Gympie residents are being reminded that the volunteers and staff at our local op shops are not a rubbish tip service.
Retail operations manager for Northern Diocese Linda De Blasio says St Vincent De Paul Gympie has had to erect a fence around the front of the shop to prevent dumping of unsaleable items, and to also encourage community members to donate during operational hours.
"We were receiving a large excess of donations left after hours and what happens to those donations is they get left out in the weather and rendered useless if they get wet," Ms De Blasio said.
"And then on top of that, you have people who go through it all, anything that is of value would be taken by the time staff members returned.
"Another issue is that our elderly volunteers, some 60 years plus, had to sift through all this stuff which became a big problem for us."
RSCPA Op Shop managing director Tracey Hooper says on a number of occasions now, donated goods have been raided by thieves as community members drop off the items after hours, allowing the perfect opportunity for them to be stolen.
"We have put up fencing, bunting and signs which warn people their items will be taken if left after hours which isn't making much difference.
"I have spoken to the previous manager who said once the Gympie rubbish tip started charging fees, we got a lot more unsaleable items," Ms Hooper said.
Ms Hooper says it is upsetting that items such as ripped up lounges get dumped at their shop, becoming their responsibility to then deal with.
"We normally do two truckloads to the dump a week, the week before Christmas we were doing one truck load a day."
Both Ms De Blasio and Ms Hooper said the not for profit opportunity shops such as RSPCA Op Shop and St Vincent De Paul are extremely grateful and commend those who do the correct thing by dropping off saleable items.
"We want people to continue to donate, but we want them to come while we are there so we can first of all thank them for their generosity and to make sure we receive the goods," Ms De Blasio said.
"My message is, if you wouldn't give it to a mate- don't donate."