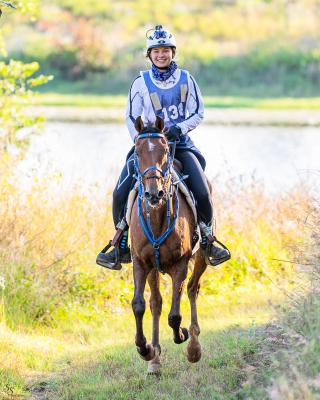 By Rose Astley
Spending up to 13 hours on horseback wouldn't sound enticing to most, but endurance riding is a passion for young Tahlea Lochtenberg, and she has proven time and time again that she is one of the best in the sport.
The 16-year-old has won three endurance competitions in recent weeks, following in her family's footsteps.
Tahlea recently competed in the Kholo, Mt Larcom and Biggenden endurance rides and with the help of her horse Matta Mia Kassanov, successfully placed first in all three events.
"The Kholo endurance ride was a new ride and I had never ridden there before. The Kholo endurance club that were hosting the event had warned that the track was going to be hard," Tahlea said.
"It was very hilly and it was hard work for the horses but we train in the Imbil forestry and our horses are used to big hills so I think we had an advantage at that ride.
"The riders were very competitive and I was so proud of my horse for pushing hard to win.
Tahlea said the Mt Larcom was a first and brought forward a new lot of challenges with hot and dry weather and rocky ground conditions
Most recently, Tahlea competed in the Biggenden Endurance Ride, an event which is close to her heart.
"I am proud to say that I took out the first junior placing and was also first across the line in the whole field.
"I was more than two hours ahead of the next junior in the field. This was a special win for me as my Dad has won this same event five times.
"These wins mean the world to me," she said.
Tahlea said endurance riding has always been a part of her life thanks to her father's passion for the sport.
"My dad has been an endurance rider since he was very young so I don't ever remember a time when endurance wasn't in my life.
"I did my first 'introductory' 20klm ride when I was nine and after that I was hooked."
In 2020, Tahlea finished sixth Junior at the Qld State Championships, an 160klm event, this year she was stepped up her A game to finish fifth in the same event.
Tahlea continues to be ambitious with her goals, and in 2022 she hopes to compete in the Australian Endurance Championship, the Tom Quilty Gold Cup.
"It is a 160klm event is being held in Western NSW. My goal is to complete this ride.
"I have attempted one Tom Quilty Cup before but I was eliminated after 120klm. This will be the last year that I am a junior so it would be a special one for me to finish."
Tahlea is currently completing grade 11 student at St Patricks College and works part time at Woolworths, and still manages to train three days a week.
"I have a busy life but the time I am riding and the time I get to spend with my horses makes is all worthwhile.
"At the recent Qld State Championships my riding time was 13 hours and 16 minutes, there is something special about spending that long with just your horse out in the bush.
"You get to know them so well and you get so attached to them. I have a special bond with both my horses and I love doing this sport."