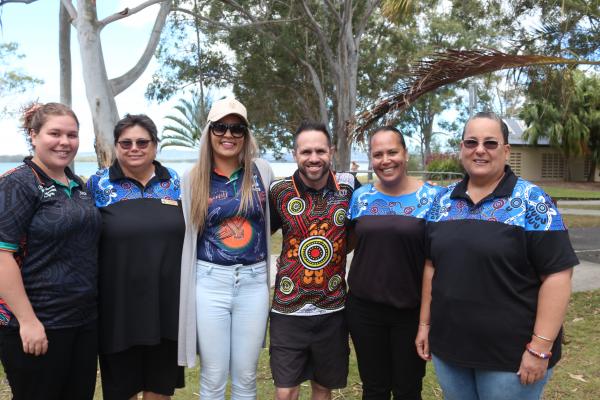 Lee McCarthy
The North Coast Aboriginal Corporation for Community Health (NCACCH) held a series of community consultation sessions this month seeking feedback for their new Aboriginal Medical Service (AMS) delivery.
Sessions were held in Gympie, Tin Can Bay, Kilkivan and Gunalda outlining plans for the Aboriginal Medical Centre currently being fitted out at 31 Excelsior Road, Gympie.
The centre will be available to all people who identify as Aboriginal and or Torres Strait Islander and their families (including non-Indigenous partners, children, the whole family unit) The Aboriginal Medical Service will provide holistic approach and will be a 'one stop shop' for patients offering which offers comprehensive free health checks and medical services.
The money for the building fit out was raised by a successful grant and directors hope to have the centre finished by mid to late October and with a soft opening later this year and an official launch opening in February 2022.
Chairperson and director of NCACCH Helen Felstead said it was proud of the facility and the work being done to help Aboriginal and Torres Strait Islanders get the medical help they need in our region.
"Prior to now, all patients had to travel to the Sunshine Coast for specialist health care. This is an extension to what we have, nothing will change, it's just a better service and it's local. The hospital will still have services as with other practices, we are just making it easier and providing patients with choices."
Project manager and practice manager Tess Symes said: "In the AMS we will be able to address more common issues like smoking cessation, chronic disease management, mental health specialists and diabetes support, and all in a culturally safe space for our patients".
"We don't want our patients to leave their existing medical practitioner but sometimes it might be weeks before they can get an appointment, so they can visit us and one of our staff will be able to see them.
"The centre is fully bulk billed, and we can upload a patient's medical history from another clinic and our goal is to ensure our patients' medical needs are being met. It's all about access to services.
"It has been our vision to provide this service to the community. We are not replacing other services in the area; we are improving them. We will have a telehub for patients who need to contact outside consultants and staff can support and offer that service.
"We have listened to feedback and surveys and from that we will have a children's play area, USB ports for charging phones, the beds will be larger, there will be change tables in the men's and the women's toilets which are also large enough for disabled access.
"As this is a free-standing building, we have good disability access with 11 car parks and an ambulance parking bay. The service will operate five days a week from 8.30am to 4.30pm.
The AMS will offer GP's, Allied Health professionals, visiting specialists, Clinical Nurse, Aboriginal and or Torres Strait Islander Health Worker/s all in a combined space to meet the community needs.
For further information contact NCACCH Sunshine Coast on 07 5346 9800 or ncacch.org.au.