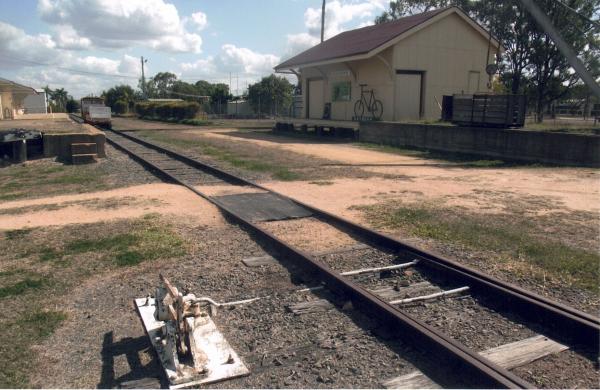 Gympie man and rail enthusiast John Hermann shares more of his recollections, and his dreams for the future of a new tourist railway to the north.
During the mid-1990s, my young son and I used to go up to the old railway station workshops here in Gympie to work on restoring old carriages, share some camaraderie with the other guys in the old camp wagon at lunchtime, and work toward bringing to reality a dream for a Mary Valley Heritage Railway.
So imagine our joy when, one Saturday morning in mid-1997, steam locomotive C17 Number 45 stood at Amamoor station with a set of three freshly-painted, fully-restored carriages.
A dream had come true.
And soon, the aptly-named 'Mary Valley Rattler' was making regular journeys between Gympie's old station up through the Valley to Imbil.
As I was driving down from Mundubbera toward Gayndah early on Wednesday afternoon, 18 August, stopping whenever I could to take photos of rolling hills, vast landscapes and distant ranges, I was wondering if I would find any remnants of the old northern section of the Maryborough Railway in the town.
Imagine my surprise, then, when I found not only the old railway station building intact, but tracks still in place, a freight shed, and a large shelter with four old 1950s-era 'Sunlander' carriages underneath!
This was a veritable railway museum!
And as I wandered about, stopping frequently to take yet more photos, a rather grand idea began to form in my mind.
A lot of work would be required to lay new rails along the track from Gayndah back to the little settlement of Mungar: the old junction station on the main North Coast Railway.
All of the old bridges would have to be inspected and strengthened, too.
The 'Sunlander' carriages on display at Gayndah's railway precinct would have to be restored; but there is a buffet car to complement the three sitting cars.
All that would be needed would be an old power car which Queensland Rail would have stored to provide electricity for lighting and for air-conditioning. Two smaller Class 1720 diesel locomotives could perhaps be sourced from Queensland Rail, too.
The commencement of the journey out to Gayndah would be Maryborough's old original station.
It could be spruced up, and given a new lease on life.
The line from this station follows its old route out to where Maryborough West main line station is now situated.
And the present main line winds its way down to Mungar from there.
What I am proposing here is a Central Burnett Tourist Railway, complete with comfortable, air-conditioned carriages for people from interstate and even overseas, once vaccination rates are sufficient for interstate and international borders to be re-opened.
It will require both a business proposal and a business plan, to be presented to the Fraser Coast Regional Council, to the federal members for that region, and to the state members also.
For this is where the funding for this venture will have to come from.
I would envisage the Central Burnett Tourist Railway becoming an incorporated company.
And if the Kuranda Tourist Railway train service can operate at a profit, even while providing a premium service, I see no reason that this tourist railway, with its beautiful scenery, could not operate at a modest profit, too.
If interstate and overseas tourists could be attracted to Maryborough, with its heritage attractions, to ride a train to Gayndah, these same tourists could also be attracted to Gympie to experience our heritage atmosphere, and to ride our heritage train, too.
I see a win-win situation for all concerned here: especially if the Valley Rattler's 'Silver Bullet' rail motor could be used to ferry passengers from Maryborough down to Gympie to ride the 'Rattler' itself.
All that remains to be done now is to convince the other relevant people in government and in business that this is a good idea, too!