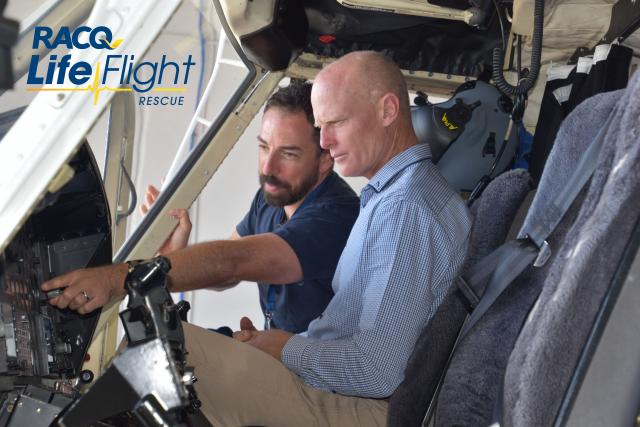 The 2022-23 Financial Year saw RACQ LifeFlight Rescue helicopters tasked to 153 missions in the Gympie region.
These missions included helping people affected by the 2022 floods.
The Sunshine Coast-based RACQ LifeFlight Rescue helicopter crew airlifted five people and their dog to safety, after their property became surrounded by floodwaters, on 25 February.
In recognition of this contribution to the local community, Gympie Regional Council has further strengthened its commitment to LifeFlight Rescue with a new $160,000 agreement.
The partnership will see LifeFlight receive $40,000 each year, for the next four years, from the council.
"LifeFlight play such an important part in the safety and wellbeing of residents in our region," said Gympie Mayor Glen Hartwig.
"Council is only too happy to continue supporting LifeFlight given the vital role they play.
"LifeFlight were an integral part of last year's flood operation and response.
"Without their air support, we would not have been able to deliver vital supplies to residents in remote parts of our region."
Since it began with a single helicopter on the Sunshine Coast in 1979, the aeromedical service's community and commercial choppers, Air Ambulance jets and medical teams have helped more than 81,000 people.
Following the announcement of the funding commitment, Mayor Hartwig was presented with a certificate of appreciation from LifeFlight Regional Advisory Committee (RAC) members, LifeFlight staff and crew.
"We're incredibly grateful for the support from Gympie Regional Council," said Sunshine Coast and South Burnett RAC Chair Brendon Murray.
"This generous long-term commitment will help LifeFlight, which serves our rural and regional communities when they need it the most.
"It was great for the Mayor to be able to meet Regional Advisory Committee members, Terri-Anne Murray and Ken Filbey, to learn more about the missions the rescue chopper performs in the Gympie region," he said.
"We look forward to continuing our partnership with the Gympie Regional Council in the future."