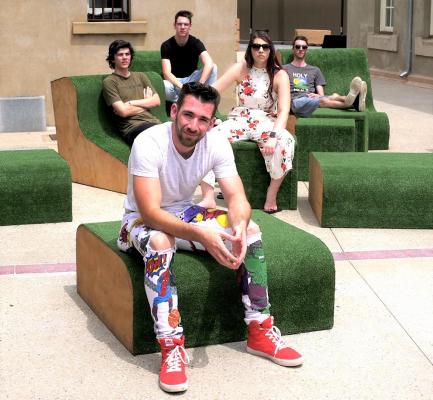 Donna Jones
Gympie performer Aspy Jones is excited for the upcoming single release launch for his song "Underdog".
"The launch will be held on Saturday 13 November at 6pm at the place where it all began nearly nine years ago at the AICM, Gympie," said the young performer.
"I joined the AICM Rockskool at 15 years old and have never looked back – it was a wonderful experience," he said.
Aspy Jones' music reflects a quirky sense of humour and a keen eye for unusual detail but they are also real, authentic and honest.
His songs are written from his unique perspective on life and the difficulties he's faced as he's learnt to live with autism and anxiety.
Aspy's tunes have an eclectic sound inspired by his love of roots, rock and pop music from many eras.
He has been writing, busking and gigging with his original songs since he was 16 and has won several competitions including Battle of the Rising Stars at the Noosa Surf Club, AICM Band Showdown with the Gympie Music Muster and Talent Search at the Rockhampton River Festival.
He also won a 4-track EP recording with Pacific International Music at Hervey Bay Unplugged.
With his lively 5-piece band which includes two of his siblings, he has entertained large crowds at the Gympie Music Muster, Mitchell Creek Rock and Blues Fest, Undercover Artist Festival, Queensland Music Festival, Rockhampton River Festival, Hervey Bay Seafood Festival, Rush Festival, Hot 91 Fire in the Sky, Peregian Originals, Gympie New Year's Eve Family Fun Night supporting The X Factor's Dean Ray and Taylor Henderson and he was showcased at the Sunshine Coast Annual Regional Music Conference, Turn Up.
Aspy has been at the top of the Triple J Unearthed Charts many times with his previous releases and has also been fortunate to be awarded grants for recording new material from RADF and Arts Queensland.
This 23-year-old wasted no time during Covid lockdown, writing, recording and working with ARIA award-winning producer Paulie Bromley and Steve Summers at the amazing Yama-Nui Studio.
His new song 'Underdog', he said is about "those people that fly under the radar and go unnoticed".
"They don't get their chance to shine because they're written off as incapable or unsuccessful," he said.
"There will be a lot of people who can relate but it's especially relevant for people with disabilities."
Special guests on the night of the launch are also graduates of the AICM Rockskool – Emma Beau and Clare Quinn from Those Folk.
Tickets are $10 online through Eventbrite or $15 at the door.
More details are available on Aspy Jones Facebook Event Page.