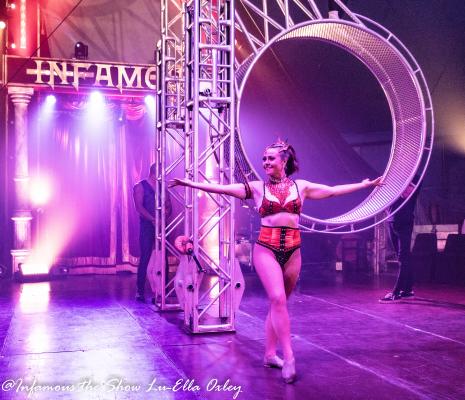 By Donna Jones
You will want to leave the kids at home for this amazing circus experience.
There will still be plenty of high flying action.
You will still get your fill of laughs from the clowns.
But you will also get some naughty raunchiness and you are absolutely guaranteed a wardrobe malfunction or three.
And that is why this show is called Infamous.
Part circus, part burlesque, part cabaret, Infamous is 100 per cent entertainment, of the adult variety.
Promoters of the show wanted to make sure locals don't confuse their show with a group of another travelling entertainers who are also opening on Friday, 24 September.
"This is definitely an 18+, licensed event. We don't want people to get confused and turn up with their kids," a spokeswoman said.
"We are excited to bring our amazing entertainment to you with a revamped show. Adjusted seating plans and safety systems are in place for all our guests; please pay strict attention to our show attendees on the night," she said.
The doors and bar open an hour before showtime so audiences can loosen up a little before the show.
The Spiegel Bigtop will be ready to host the show at the Lighthorse Oval, next to the Gympie Gold Mining and Historical Museum at Lake Alford next Friday for the opening night.
The season will run until Sunday, 3 October with shows on Thursday, Friday, Saturday and Sunday.
Tickets are available from Ticketek or head to the website at infamous.net.au for session times and bookings.