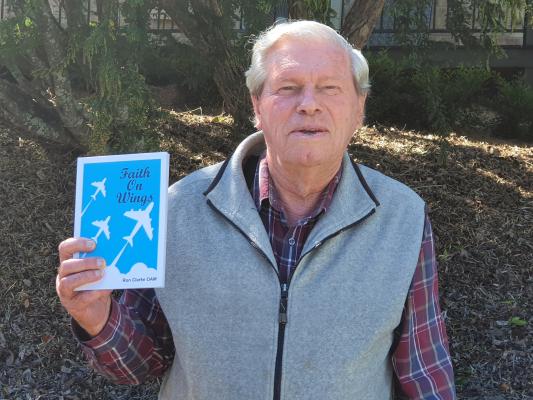 By Donna Jones
Born in 1930, Gympie man Ron Clarke is a young 90-year-old and to prove it, he has just published his autobiography.
He describes "Faith on Wings" as an 80-year love story that starts in machine gunned, bombed and buried wartime England and takes us through his remarkable life on to Australia.
As neighbours at Hampton near London Ron and his wife-to-be Vera started school together in January 1936 aged 5.
Over the next 80 years the couple went through life together as school mates, friends and then lovers.
They were married in 1953 and the following year emigrated to Tasmania.
Ron's book documents his remarkable life of faith and tracks from the bomb shelters, evacuations and doodle-bug bombs of London, through occupied Germany and through his journey as a minister in more than 30 churches in Tasmania, New South Wales, Queensland and London.
Ron's ministry commenced some 45 years ago in Tasmania in Community and Uniting Churches, also in Christian radio as chair of 7WAY-FM.
Ron was awarded the Order of Australia medal (OAM) in the 2004 Queens Birthday Honours List for assisting seniors with information technology and for maintaining a worldwide weekly internet ministry to more than 3000 subscribers which is now in its 25th year.
He established 'Compassionate Computers' an organisation that recycled hundreds of computers for the disabled and underprivileged.
Ron and his wife moved from Tasmania to Queensland in 2012 due to Vera's failing health and the need to be closer to family, and he acted as Pastor of a small community church at Tewantin.
He retired from pastoral ministry in June 2015 following a minor stroke, but has since acted as a volunteer chaplain at nursing
homes in Tewantin and took occasional church services at two nursing homes.
He was a member of the Board of Management of Noosa Care (Carramar and Kabara) and an elder in the Uniting Church of Noosa/Tewantin and re-located to Gympie in September 2017 where he leads a weekly Christian group at Gympie's Zion
retirement village.
Sadly Vera died in July 2015.
He has received a number of awards including the 'One Little Candle' Foundation Award (California 1996), Prime Minister's Award (2000), Citizen of the Year Award, Derwent Valley Tasmania (2000) and nomination as Senior Australian of the Year in 2005 (finalist) and 2011.
He remains a Justice of the Peace for Tasmania and is a Commissioner for Declarations for Queensland (C.Dec).
Ron was co-founder and CEO of the Tasmanian Tourism Council in 1966 and a member of the Tasmanian Government's
Tourism Development Authority; also a member of the Premier's Senior's Bureau.
He was also one of the 19 Australians featured in the Federal Government's 2006 publication "Inspiring Not Retiring" a book of stories and photographs honouring the lives and achievements of those Australians who were nominees for the National Australia Day Council Senior Australian of the Year Award (2005).
His book is a source of immense pride for Ron.
"This lifetime account is now very much a Gympie story," Ron said.
"Faith on Wings" is being sold throughout Australia and copies have been ordered from the UK and USA.
It can be purchased in Gympie at the 91.5FM shop at 131 Mary Street, at Twiga Books, or by email request to Ron at w4w2@bigpond.com.