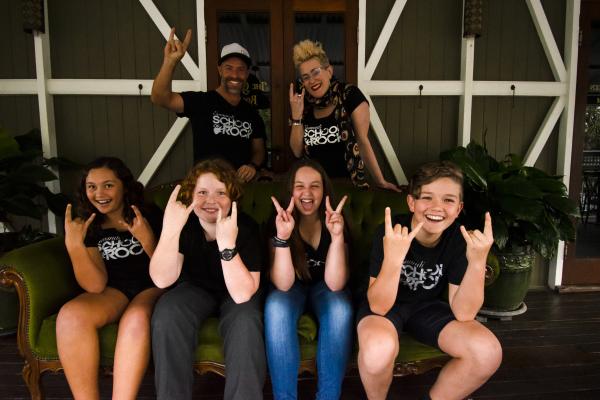 By Abbey Cannan
Although Eumundi's School of Rock students aren't being taught by actor Jack Black, four-time Aria award winning singer Katie Noonan takes the same approach to letting their souls shine through music.
Katie founded the school five years ago with the aim to provide free quality music education for young people in the area. The students are usually taught by an array of talented regional musicians, but since Covid-19 put a halt to Katie's tour plans, she has been able to teach the kids first hand.
"It's been amazing and particularly beautiful to watch children go through such significant a stage of their life," she said.
"It's all about the pure joy of making music and having a good time. As long as the kids are smiling, I'm happy."
Katie's desire for music started when she was just a child, with her mum teaching music education from home.
"It was music education 24/7 at my house because she taught every afternoon after school," she said.
"In our area, there's not a lot of opportunity because we are so spread out. So, this is a way that brings kids from all walks of life together.
"Music is just such a wonderful companion for everybody and unfortunately in Australia it's not as valued as much as it should be in education.
"I observed what was available for my children and thought, I'd like to improve that."
School of Rock costs $25,000 to run each year, so they are raising funds through gigs including their drive-in concert on August 29, as part of the Horizon Festival.
"I really want to keep this school free so it's available to everyone," Katie said.
"We're encouraging people to donate to the GoFundMe page or buy a ticket to the drive-in.
"The concert will be transmitted through your car stereo and we'll have a full screen and you'll be able to see everything from the comfort of your car."
Covid-19 has had a dramatic impact on the entertainment industry this year, with Katie reminding us that one good thing will come out of this time.
"We're all going to write some pretty amazing records that are going to be full of a lot of angst and heart ache," she said.
"It's been really tough. I was three dates into a 25-date national tour that was sold out and that was my family's income for the first half of the year. So that just disappeared in smoke within 24 hours."
Each day brought more cancellations, from her work curating music programs in Finland to an artist residency in a castle in France, Katie's schedule emptied in an instant.
"The positives of living in this country and particularly living in this state, we have so much to be grateful for in that we have an amazing health care system, we have a premier who has absolutely nailed it I think," Katie said.
"In the big scheme of things, we are so lucky."
With her passion for Australian music, Katie ensures her School of Rock students plays local music.
"I'm very passionate about celebrating Australian content," Katie said.
"There's no shortage of incredible choices of tunes, so it's just important to instil sense of cultural pride in young people, because if you listen to the radio, it doesn't sound very Australian to me."
Katie's latest album release has been keeping people entertained during the Covid-19 lockdown, with The Sweetest Taboo, hanging out in the Top 10 in the charts for 10 weeks.
"We were at number one for five weeks, and then we were kicked off by Norah Jones, which was fair enough because she's a superstar," Katie said.
"It's pretty amazing because 10 weeks is a big chunk of Covid that this music has been meaning something to someone, so that's awesome."
To buy tickets to the School of Rock Drive-In Concert visit https://www.horizonfestival.com.au/school-of-rock
To donate to the School of Rock fundraiser visit https://www.gofundme.com/f/eumundi-school-of-rock-2020.