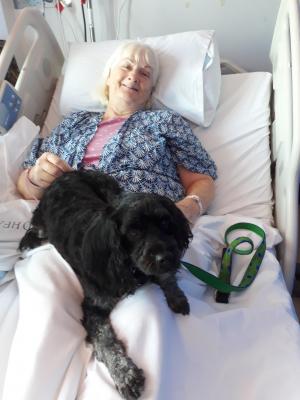 For Gympie woman Belinda Hansen, being told leukaemia had returned after eight blissful years in remission, was heart-breaking and gut wrenching.
The 68-year-old's health journey began in 2006 when she was first diagnosed with leukaemia.
She was cancer-free until 2012 and again last year.
"From 2014 to mid-2020, life was pretty awesome. Most of my time revolved around Community Theatre and family. I would also sing with my daughter at the Nursing Homes. It was very uplifting for me (and I hope for others)," Belinda said.
The euphoria came to a standstill in February 2020 when she was forced to return to hospital with haemolytic anaemia, which required six lifesaving blood transfusions.
"The best thing you can do is stay positive and believe there is a light at the end of the tunnel. Having my husband Allan by my side all through the journey has been paramount to my 'never give up' attitude," she said.
The Gympie local is the first guest at Wishlist House to undergo cancer treatment at Adem Crosby Centre Clinic at Sunshine Coast University Hospital.
"In June last year I had a reaction to the oral chemotherapy medication which put me back in SCUH for another week. Twelve months later and it is time for treatment again and I'm giving it my all."
Belinda said having the luxury of staying one night a week at Wishlist House has made a world of difference in remaining positive throughout her third phase of knocking the disease.
"My husband and I have been going to Wishlist Coffee House in Gympie for 'the best' coffee in town, but we had no idea Wishlist had accommodation on the Sunshine Coast. A social worker put us in touch with the lovely ladies at Reed House.
"The team of volunteers were extremely helpful. The rooms were well-fitted out. We'd be exhausted by the end of the day. It was just fabulous to have a place to rest close to SCUH and enjoy a hot bowl of soup to rejuvenate.
"It wasn't an option to make the 90-minute drive from Gympie as my specialist said I had to stay close to SCUH in case I didn't respond well to the medication. "With none of our friends living in the Birtinya area, we faced an expensive hotel bill. We owe a debt of enormous gratitude to the Wishlist team."
Wishlist CEO Lisa Rowe said guests like Belinda who live outside the 50km radius of Sunshine Coast University Hospital can stay at the charity's accommodation facilities – free of charge – if they qualify for the Patient Travel Subsidy Scheme.
"Three out of four guests staying in Wishlist's existing accommodation, Reed House and Wishlist House, are from the Gympie region," Ms Rowe said.
"Wishlist House is our closest facility to SCUH which offers a 'home away from home' for both rural and remote Queenslanders, as well as Sunshine Coast locals.
The growing demand for accommodation has led to the charity receiving a $12 million grant to build Wishlist Centre (Stage One), thanks to Federal Member for Fisher Andrew Wallace.
The four-level purpose-built facility will provide a circle-of-care for patients receiving ongoing treatment and those transitioning to and from hospital.
"Gympie will benefit immensely from all that Wishlist Centre has to offer. Their region records the highest levels of chronic disease compared to the rest of the Sunshine Coast Hospital and Health Service catchment area.
"A further $2 million is needed by 2022 to ensure Wishlist Centre is a comfortable and supportive environment for our patients and families during an ongoing health crisis."
Construction will begin in September, with an opening scheduled for mid next year.
Wishlist is aiming to raise funds for Wishlist Centre at the Wishlist Jazz & Wine Festival on September 11 at Gunabul Homestead.
Tickets starts at $30 at wishlist.org.au.
Although Belinda said she is "not happy" that she can't enjoy a glass of wine, she will continue her remaining six months of chemotherapy in Gympie, together with her family and two pets.
She hopes to be back script writing and performing with her Community Theatre group again soon.
For more information on affordable accommodation options or Wishlist Centre phone 5202 1777 or visit wishlistcentre.org.au.