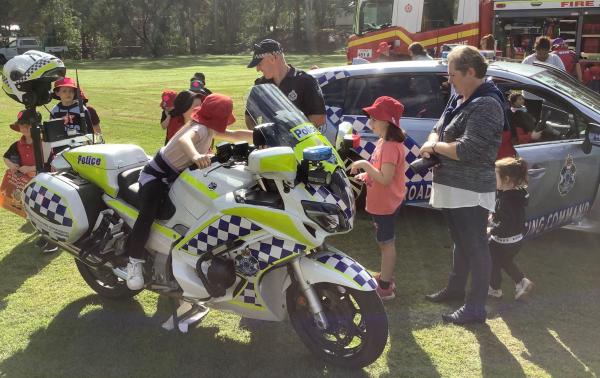 On Wednesday, July 14, Senior Constable Darren Hewitt from Gympie District Crime Prevention attended the under 8's activity morning along with Senior Constable Greg McMaster and Senior Constable Terry Buchanan from the Gympie Road Policing Unit (GRPU) at Gympie West State School.
Senior Constable Darren Hewitt enjoyed the day with the students saying they love to receive police friend stickers, "bee safe" balloons and getting their photo taken with a police friend sign.
"I enjoy interacting with the students promoting play and learning," Senior Constable Hewitt said.
"I was even able to show off my soccer skills in a goal shooting competition.
"I really enjoyed this morning, as I attended Gympie West as a primary school student many years ago, which bought back lots of good memories."
Senior Constable Greg McMaster bought one of the police motorcycles in which the students were able to experience what it feels like to sit on a police motorcycle, and Senior Constable Terry Buchanan bought along a police vehicle for the students to sit in and pretend to be real police officers.
This year the national Under 8's theme was 'Children celebrating outdoor play and learning'.
Gympie West State School deputy principal, Lori McPherson said the Under 8's Activity Morning is an annual event held at Gympie West State School.
"Under 8's is an event that we look forward to every year. Our staff work hard to ensure our students and families have the best experiences and opportunities," Ms McPherson said.
"At Gympie West we ensure this morning of activities is inclusive for all students and families, providing an opportunity for younger siblings and parents to participate in the fun activities alongside our Prep, Year 1 and Year 2 students.
"Staff and visitors to Gympie West provided the many wonderful activities that the children could move through. A nature scavenger hunt, slime, tree rubbings, ribbon dancing, an obstacle course, jumping castle, edible plantings and puppet making are just a few of the activities the students engaged in.
"As a school community, we are so lucky to be supported by the Gympie West P&C, Queensland Police, Gympie Fire Brigade, Bunnings, Mrs Rita O'Neil with drumming and the Gympie Hammers Rugby Union Club for the use of the jumping castle and marques."
The kids worked together to defeat goalie, Senior Constable Hewitt
"Having Senior Constable Hewitt involved as a goalie for soccer was extra special.
"Opportunities for our students to see police as people who are there to help and able to join in with the fun makes police all very real to our little people.
"It was fantastic and a fabulous morning of fun, the smiles on the faces of all the children, parents and carers said it all," Ms McPherson said.