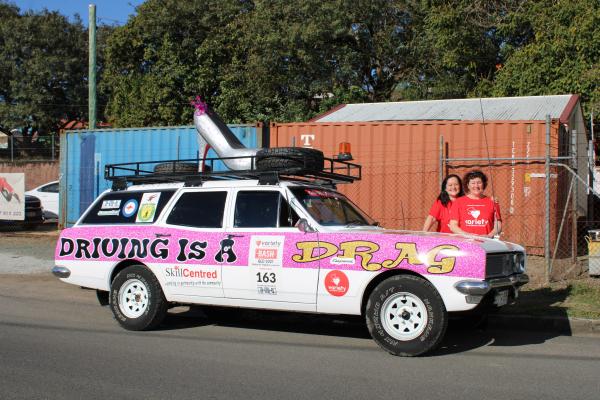 Two members of the Priscilla's Variety Bash team, Branka Starcevic and Wendy Boraso popped into the Gympie Today office earlier in the week to drop off some flowers to wish us a Happy First Birthday.
While they were here, they showed off Percy, their ride for the 2021 Dust to Dory Variety bash.
The 50 year old Kingswood is pretty hard to miss, with a shiny silver stiletto adorning the roof and the words "Driving is a Drag" emblazoned down both sides in hot pink.
The ladies wanted to let the locals know they are still pushing towards their fundraising total with a final few events this weekend, starting with tonight (Friday 6 August) at the Mount Pleasant.
Then, tomorrow morning they'll be running a sausage sizzle at the Pump House on Pine St and tomorrow night at the Phoenix Hotel.
The five women, who make up Priscilla's Variety Bash team hope to hit the road in their sequined dresses and fake lashes at the end of the month, all in the name of raising money for children's charity, Variety.