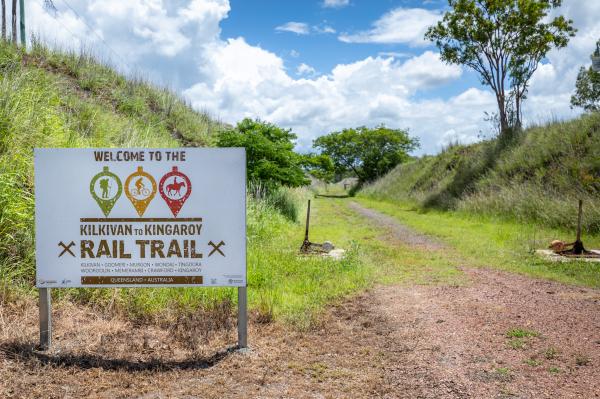 Gympie Regional Council this week commenced work on the construction of a 12.5m concrete pedestrian and cycle bridge across Wide Bay Creek along the Kilkivan to Kingaroy Rail Trail.
Currently, recreation opportunities exist along the trail for bushwalkers, mountain bikers and horse riders to experience the Gympie region in a unique way, while appreciating the history of the rail corridor.
The location of the bridge construction is at Wide Bay Creek, approximately 6.5km from the start of the trail in Kilkivan, and 800m from Cinnabar Road.
Users of the trail are still able to pass through this section of the trail uninterrupted by the works.
The construction of the bridge is a welcome addition to the trail, providing convenience and increased accessibility for trail users that currently have to make their way through water at this location.
Councillor Hilary Smerdon said the bridge construction is a much needed addition to the trail.
"I'd like to thank the Queensland Government for helping fund this project. The Kilkivan to Kingaroy trail is a great outdoor recreation activity for the region that showcases the history and beauty of the west.
"It's about user-friendliness; no more creek hopping. People can enjoy the trail without the inconvenience of dismounting or wading through the creek. The bridge only adds to the trail" he said.
Construction is expected to be completed by the end of September in time for the school holidays.
Construction of the Pedestrian/Cycle Bridge at Wide Bay Creek – Kilkivan to Kingaroy Rail Trail Project is estimated to cost $283,500 and is a joint initiative by the Queensland Government through the Works 4 Qld program and Gympie Regional Council.
The council would like to thank the public in advance for their patience.
If you have any questions, give Gympie Regional Council a call on 1300 307 800.