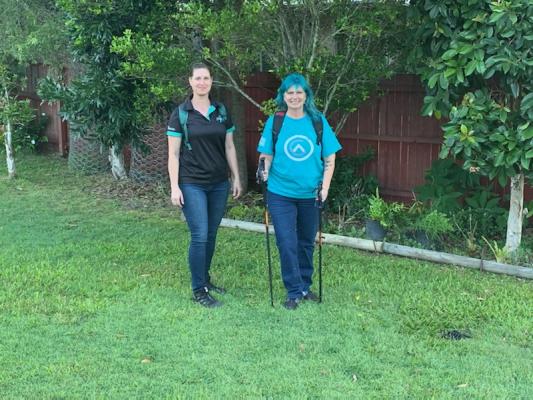 This year on 3 May, Di Knight and Lisa Loranger, with a group of more than a dozen others, are taking part in an incredible challenge to help raise funds an awareness for Ovarian Cancer Australia.
The Teal Ribbon Trek 2021 will see Lisa and Di trekking up to 20km per day for five days, along the backbone of the West MacDonnell Range in Central Australia, on the spectacular Larapinta Trail, which includes the ascent to the summit of Mt Sonder.
Every year in Australia approximately 1600 women and girls will receive the shock diagnosis of ovarian cancer.
Currently there is no early detection test for ovarian cancer, as there is for breast and cervical cancer.
While breast cancer survival rates have risen to around 91 per cent, the five year survival rate for ovarian cancer is around 45 per cent.
Unfortunately, many women, due to vague and undetected symptoms, will be diagnosed when they are already in the advanced stages of the disease and three out of four women diagnosed with ovarian cancer will not survive.
Ovarian cancer is the most underfunded and deadliest female cancers and is known as the silent killer.
This proved true for Di's daughter, Jazmin.
Jazmin was raised in Gympie, attended One Mile and James Nash State schools.
With no obvious symptoms, she was diagnosed with ovarian cancer at the age of 25.
When Jazmin received the shocking diagnosis, she was living and working in Brisbane, and just months away for completing her degrees in Law and Criminology.
She passed away less than two years later – the disease already too well advanced.
Presently there is no existing treatment to halt this deadly disease.
Funds raised by the Teal Ribbon Trek will go directly to help women diagnosed with ovarian cancer.
They will be provided with free access to a helpline staffed by professional oncology nurses, face-to-face and tele-support groups, information sessions and forums through an on-line community and a 230 page Resilience Kit with up-to-date evidence based information on all aspects of living with ovarian cancer.
Di and Lisa both want to help shine the light on ovarian cancer, to raise awareness on the need for funding for research and to ensure more women can recognise the signs and symptoms of ovarian cancer and hopefully save their lives.
Some common symptoms can be lower back pain, excessive fatigue, feeling full after eating a small amount and abdominal bloating.
For more information, go to www.ovariancancer.net.au.
Please consider donating to help give women the chance to be diagnosed early and for researchers to discover effective treatments so ovarian cancer is no longer a death sentence.
Donations are 100 per cent tax deductible.
To donate, go to ovariancancer.net.au, and find the Teal Outback Trek 2021 under events.
There you can read about all the members on the trek.
Di said she doesn't mind if people choose to donate to other people on the site.
"It is all going to the same place – it is all going to help people in the same situation as Jazmin was."