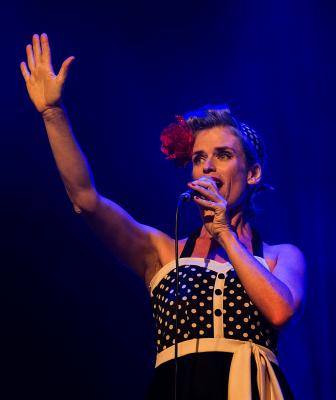 Anybody can sing, according to singing teacher and choir master Sarah Harvey.
"I've been teaching singing and choir for 30 years and I can honestly say there has only ever been one person who couldn't pitch," she said.
And she should know – she's been singing since she was 11.
"You know when you're a kid, you get people telling you not to open your mouth and to keep quiet?
"I got the opposite," she said.
"I got enormous encouragement from my parents. I think I had a very musical family.
"Even though he couldn't play an instrument, dad would always chuck on a record or put on the radio."
There's no secret to singing, either, according to Sarah, who said if you can speak, you can sing.
"If you can listen, speak, hear music and preconceived sound like that, then you can sing. Everyone's sound is so unique but when you put it all together, it sounds amazing," she said.
Over her career, Sarah taught choir for 12 years in Melbourne before heading off to New Caledonia to teach over there.
She said she primarily got involved to feel connected with her new community, but also to improve her French language skills.
She also took joy in teaching ex-pats in English, until, as her communication skills improved, many locals came on board to improve their English and to learn from her too – increasing that joy and offering her a chance to learn traditional Melanesian music
This confidence inspired Sarah to teach at the Conservatorium of Music in New Caledonia for a number of years.
Moving to Gunalda in 2017 with her husband – who is a saxophonist – and young family, Sarah is keen to impart her wisdom and experience and wants to form a choir, or two, from anyone interested in sharing, or perhaps discovering for the first time, the joy of singing.
"My specialties in the choir department are gospel, African, world music and pop – but I have tried just about everything and am always open to suggestions," she said.
"These memories are some of the best of my life – with amazing musical and personal experiences and many great friendships found along the way," she said.
"I'm fully addicted to choir and I absolutely need to connect with other people."
Sarah is hoping to get her choir (or choirs, depending on demand) up and going over the next few weeks, so if you are keen to get involved, find her on Facebook at Sarah Harvey and send her a private message or call 0484 831 251 and leave a message.