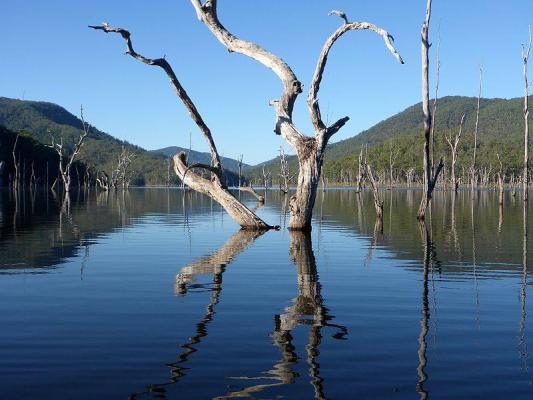 By Rose Astley
Around 2000 regional construction jobs are one step closer with the Palaszczuk Government announcing $22 million for detailed design and cost analysis for pumped hydro at Borumba Dam.
Premier Annastacia Palaszczuk said the project had the potential to be the state's largest pumped hydro station, powering an estimated 1.5 million homes.
"More pumped hydro means more long-term, reliable energy and jobs for Queenslanders," Ms Palaszczuk said.
"My government has been exploring potential sites for pumped hydro since 2017.
"We're prioritising Borumba because of its existing dam infrastructure, land access and location within the Southern Queensland Renewable Energy Zone.
"Supporting investment in renewables is part of Queensland's plan for economic recovery from the global coronavirus pandemic.
"It will deliver clean energy and support thousands of jobs into the future."
The Australian Conservation Foundation (ACF) has welcomed the Queensland government's announcement.
ACF Chief Executive Officer Kelly O'Shanassy says big renewable storage projects such as this can speed the transition away from coal and gas and help make Queensland a renewable energy superpower.
"Of course, this project must first go through proper environmental assessments to make sure it doesn't threaten our precious and unique animals, woodlands and forests, or compromise environmental flows in the Mary River catchment," Ms O'Shanassy said.
"The recent fire and explosions at the Callide coal-fired power station – which thankfully didn't injure anyone – and the subsequent blackouts are a reminder that coal is unreliable and dangerous.
"Fortunately, renewable energy helped restore Queensland's power following the Callide blackout, which was the state's worst power outage in decades.
"Queenslanders' way of life and natural wonders like the Great Barrier Reef, the Daintree and the Wet Tropics are particularly vulnerable to climate change, which is being fuelled by burning coal and gas.
Ms O'Shanassy said Queensland has every reason to move away from fossil fuels and become a leader in climate change action.
"The state's 2030 targets – to reduce emissions by 30 percent and have 50 percent of electricity from renewables – are among the weakest in the country and should be urgently strengthened.
"Queensland has started to fall behind other states when it comes to renewable energy penetration into the grid. If this project goes ahead it will put Queensland back in the race.
"Projects like this pumped hydro scheme can help the state move to clean energy – we look forward to more announcements like this from the Queensland government."
Minister for Energy, Renewables and Hydrogen Mick de Brenni said at one gigawatt, Borumba would have double the generation and triple the storage of Wivenhoe.
"The benefits of having pumped hydro as part of our diversified energy mix was proven last month when Callide Power Station went offline," the Minister said.
"We were able to ramp up the Wivenhoe Hydroelectric Station to provide critical generation support and stabilise the network.
"Pumped hydro storage is flexible, reliable, and complements renewable energy generation such as solar and wind.
"That's why Queensland needs more of it as we progress to 50 per cent renewables by 2030.
"Borumba Dam is already a hub of activity with water skiing, camping, BBQs and picnics on the lake front and this possible expansion will see that grow."
Mr de Brenni said if Borumba moves ahead, the Commonwealth should contribute to the capital cost.