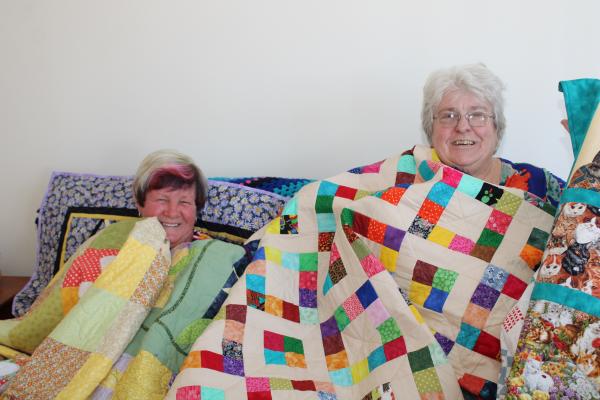 Gympie charity crafting group Robin's Roses, and a sister group from Gayndah, helped out the Supporting Chemotherapy in Cooloola facilities at Everson Lodge with the donation of 15 brand new, handcrafted quilts.
Robin's Roses, who construct hundreds of quilts a year for people undergoing treatment in the Renal and Chemotherapy wards at the Gympie Hospital donated the eight double and seven single bed quilts to be used at the SCIC Everson Lodge accommodation facility that provides patients and carers somewhere to stay close to the hospital while they are undergoing treatment.
The gorgeous hand crafted quilts are a labour of love for representative Gail Whittaker.
"You get so much out of doing it," she said.
"The satisfaction out of seeing someone happy because of something you've done for them, you can't put a price on it."
Marlene Owen, the driving force behind SCIC and Everson Lodge said she knows more than most the amount of work that goes into creating each quilt.
The gesture by the women to replenish the quilts at Everson Lodge is one that Marlene Owen describes as "amazing".
"It brings you to tears because I know what these ladies put into it," she said.
And there have been lots of tears, for all sorts of reasons said Marlene, whose involvement has been extremely emotional at times.
"I remember I had this one little fellow, he was only seven years old and he was mad about tractors so I asked Robin (the founder of Robin's Roses) if she could do me up a quilt for him with tractors on it," Marlene recalls.
The group came through in record time and she vividly remembers the moving moment she took the tractor quilt down to Brisbane, where the little boy was receiving treatment.
"He asked me 'What have you got there?' and I said I've got a surprise for you …. he torn off the wrapping paper and said 'Oh My God! Look mum, it's my tractor!'," she recounted.
"Then he says, 'Can I talk my tractor to heaven when I go?' and I nearly lost it," she said.
The quilts, which mean so much to the recipients also mean a great deal to the patients who utilise them at the lodge.
"They make the rooms more welcoming, and more like a home," Marlene said.
The 15 new quilts will replace previous quilts donated by Robin's Roses more than 15 years ago, but those 'worn out' quilts will be donated to patients if they take a liking to them.
The all cotton and wool artworks, some which can take up to 200 to 300 hours to create depending on the intricacy of the pattern, will serve for the next 15 years, it is hoped.
Robin's Roses will be opening a pop-up shop in Mary Street on 13 September for four to six weeks, to help the group raise funds for wading and other raw materials to help them continue their work.
There will also be an open garden the weekend before on 11 and 12 September at 116 Stumm Rd, Southside where a raffle will start and members of the public will have the chance to win one of the fabulous hand crafted quilts.
Entry to the open garden will be by gold coin donation.
Tickets to the raffle will continue to be sold in the pop-up shop at 138 Mary Street between 9am-3pm weekdays up until after the Rotary Craft and Quilting Spectacular in November, where Robin's Roses will be holding a stall.